How SARS-CoV-2 Will Catalyze Decentralized Testing
By Arushi Agarwal, Vice President, Donna Hochberg, PhD, Partner, and Laura Gullett, Engagement ManagerIntroductionDiagnostic testing approaches have been a constantly swinging pendulum between cent…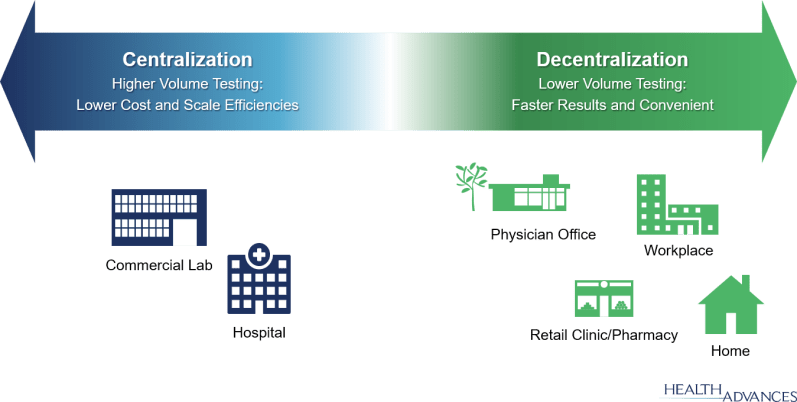 By Arushi Agarwal, Vice President, Donna Hochberg, PhD, Partner, and Laura Gullett, Engagement Manager
Introduction
Diagnostic testing approaches have been a constantly swinging pendulum between centralization to ensure efficiency and low cost, and decentralization at satellite labs and the point of care to enable rapid response to urgent clinical needs and reduce turnaround times. With significant improvements in the quality of point-of-care (POC) testing technologies and accelerating hospital consolidation, all signs were pointing to a fast-moving bifurcation of testing (in developed markets) characterized by progressive growth in professional and patient/consumer-driven POC testing alongside ongoing consolidation of non-urgent and complex testing to fewer but larger laboratories.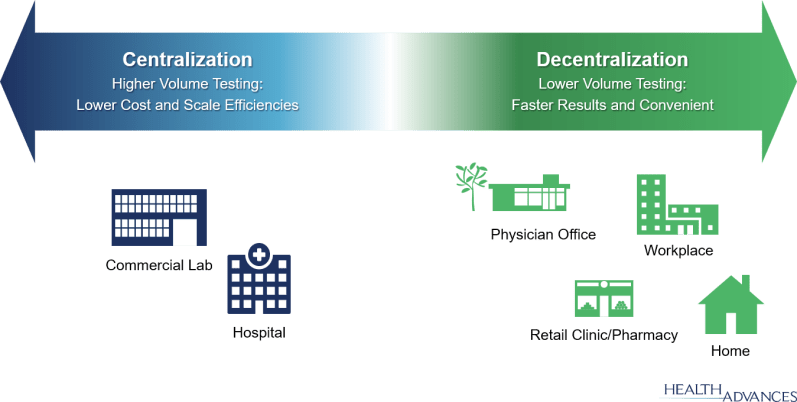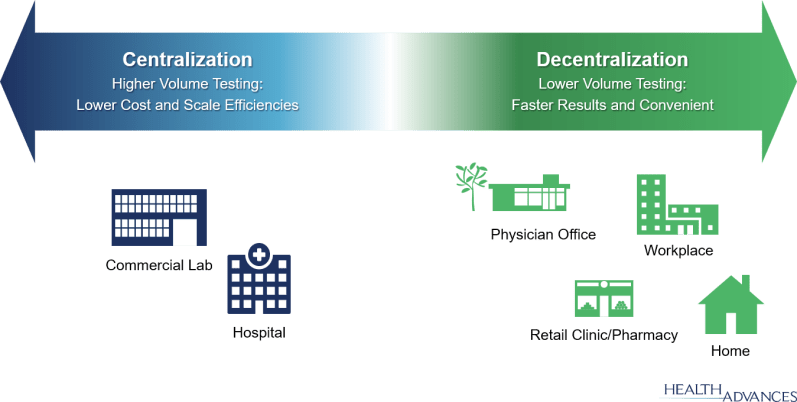 SARS-CoV-2 is shifting this dynamic.
While the first test kits and platforms available were from the "usual suspects" we see in lab testing, attention quickly turned to the need for rapid point-of-care tests and platforms with capability to provide fast and convenient testing to those in greatest need. As the pandemic unfolds, the potential value of high-quality decentralized testing, at home, at clinics, and likely at the workplace, has become increasingly apparent. This pandemic may be just the catalyst we have been waiting for to swing the pendulum faster towards more decentralized testing while also potentially moderating the drive to fully consolidated laboratories and healthcare facilities. In this post, we explore the drivers and barriers to centralization and decentralization of testing in the context of this pandemic and its aftermath.
Defining Decentralized Testing
To start, we need to ensure a clear definition of decentralized testing as the diversity of settings where this testing is possible is part of the key to success. Decentralized test settings include both satellite labs within health systems, labs on individual hospital floors as well as all categories of POC. The true potential of decentralized testing requires expansion of the latter category of POC testing outside traditional medical settings (e.g., physician offices) to places such as urgent care clinics, retail clinics, pharmacies, at-home testing, and, in particular in the context of SARS-CoV-2, the workplace, TSA and other locations. Finally, hybrid models of decentralization where patients collect a sample at home and ship to a central lab site, skipping the typical visit to a professional collection site (e.g., physician office, hospital lab, or stand-alone sample collection/lab site) are also critical to consider. Examples of all of these pathways exist today in other diseases and applications.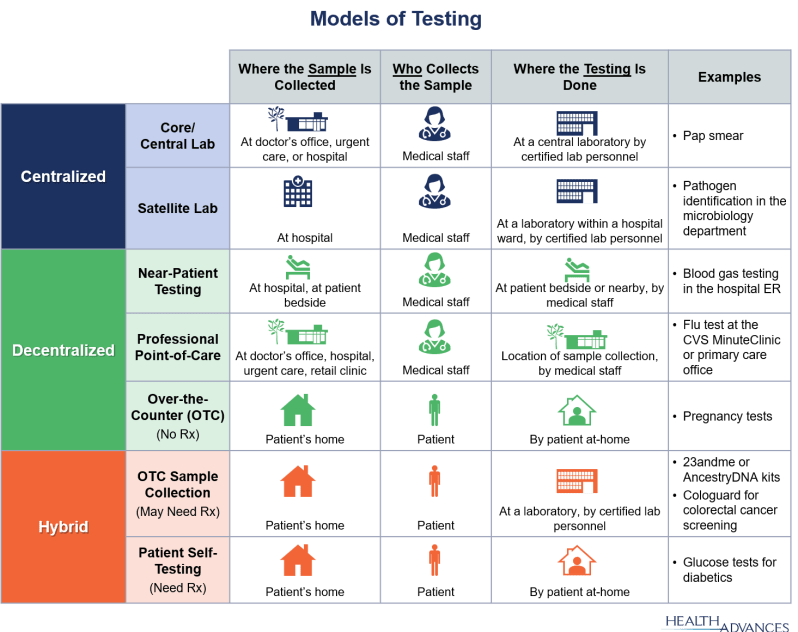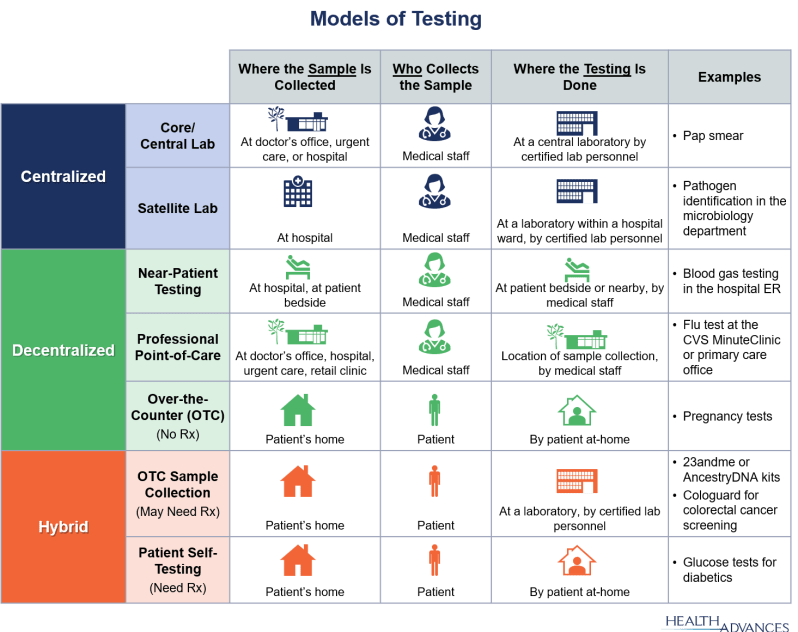 Decentralization at the Forefront of SARS-CoV-2
Decentralized testing in managing the SARS-CoV-2 pandemic wasn't a question of "if" but "when." The need for widely available, fast turnaround testing was obvious, and we quickly saw Abbott enter the POC and decentralized lab markets with its ID NOW test with Cepheid (Beckman) following closely behind.  Numerous other manufacturers of decentralized lab platforms and POC testing platforms have since announced development plans, including new entrants such as Bosch, Sense Bio and Nuclein. More recently, we have seen efforts to start reaching patients directly with the launch of Everlywell and LabCorp's at-home collection kits, though no true patient self-test (PST) or over the counter (OTC) test has yet become available. As the pandemic unfolds, leaders are continuing to call for more decentralized testing options, not only for molecular tests to diagnose acute COVID-19 disease but also for serologic antibody testing to determine infection history and potential immunity. Some have even claimed that POC and at-home testing options may be the only approach to facilitate a "return to normal" by enabling widespread diagnostic and exposure/infection history testing and monitoring. Though capacity will require a combination of lab and POC testing, use of POC testing options may be the most efficient path to providing early detection of SARS-CoV-2 infection in future outbreaks and facilitating, now and in the future, contact tracing, containment strategies, and qualifying individuals for return to work. Consumers independently may be more demanding in understanding disease status for themselves and their families, driving desire for and use of at-home testing options of all types.
Will this be the rising tide?
The value of decentralized testing for managing the pandemic is apparent even to the non-professional and emphasizes what those in the field have been trying to articulate for years. While there are unique circumstances associated with the current crisis, the role and effectiveness of decentralized testing highlights benefits supporting the case for broader availability and use of decentralized lab testing as well as by healthcare providers in professional settings (such as the urgent care clinic) and in emerging non-clinical settings such as the workplace and home.
The convenience and improved access facilitated by decentralized testing approaches have significant value as already evidenced by the increasing number of healthcare organizations that have become handicapped in their ability to test widely, in a timely manner, due to centralization of testing capacity into too few core labs.
Despite longstanding availability of professional POC testing, physicians have been historically reluctant to incorporate these approaches into their practices citing challenges with reimbursement, workflow integration, menu availability, and test quality. As these physicians are now becoming more familiar and potentially more reliant on POC technologies to help manage this crisis, we are likely to see a shift in mindset to be more accepting of bringing on POC testing for other clinical areas. This growing demand is expected to favor decentralized testing over the long term as payers and clinicians take advantage of the convenience, speed, and clinical befits of POC.
However, physicians cannot feasibly be the only stewards of healthcare delivery in the longer term. As governments look to re-open economies and as employers look to protect their employees, there is a reality to the challenges of maintaining social distancing in certain work environments like warehouses and factories. More broadly, the entertainment, manufacturing and services industries will need to ensure their employees are healthy and not putting customers at unknown risk. In order to efficiently test these individuals, employers may need to take on responsibility for testing on their own which will only be possible with some type of decentralized test option. As these employers become more comfortable with this dynamic, it may create an opportunity to access other types of testing through employers (infectious disease or otherwise).
But arguably the most significant impact of this pandemic will be to empower the patient. It is becoming increasingly clear that the safest, most efficient and most practical way forward is to have patients take responsibility for their own testing. As this knowledge and infrastructure evolves in the context of COVID-19, it will be transferrable and support the growth of: OTC testing, at-home sample collection and shipping to central labs, patient self-testing enabled through telemedicine, and in-office POC. Of all of these realizations, three emerge as most impactful:


Keep Sick Patients At Home

The hallmark of this pandemic has been widespread mandates for isolation. The benefits are now becoming clear, as we see a number of the hotspots in the US begin to "flatten the curve" only weeks after these restrictions were put in place. This begs the question – why should someone with a potentially contagious disease go out in public and put others at risk? While we would never implement a stay at home mandate for the flu, there is clearly value in patients with a suspected contagious disease testing themselves at home. Furthermore, this option is a safer alternative for individuals who may not want to put themselves or their families at risk. Decentralized testing provides a safe alternative to ensuring testing is happening without creating additional downstream issues.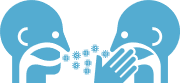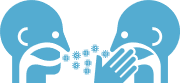 Infectious Diseases are Dynamic
Knowing that the greatest risk in our society is those who are asymptomatic but still contagious has created a new set of challenges for containing the spread of this disease. While most other infectious diseases have not, and likely will not, create an overload at hospitals, there is still a public health argument for closer monitoring of transmittable conditions which is not feasible today. If a low cost and convenient test can be developed for widespread SARS-CoV-2 monitoring, it could open the door for similar tests for other respiratory infections, or in other disease areas such as sexually transmitted diseases where cases have been exploding in recent years.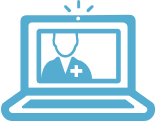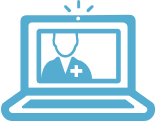 Telehealth Can Work
One of the more significant barriers to decentralized testing has been ensuring access to a physician to manage any necessary treatment and follow-up. This type of service is critical for any test performed at home and could also be valuable for tests performed at retail clinics where there may not be enough trained medical professionals on staff. As this pandemic has forced rapid adoption of telehealth as a preferred and sometimes only path to accessing non-acute medical services, we are starting to see improvements in access and infrastructure and a widespread acceptance of this modality as a way to engage with patients. Tests developed for decentralized settings will benefit from easier access to these enabling technologies, and manufacturers can now have confidence that this model will work.

Conclusion
As appreciation for decentralized testing continues to grow, we expect that all settings, healthcare or not, will begin to evaluate the feasibility of bringing on this responsibility to support the general health and well-being of society. Of all these settings, we expect to see significant activity in consumer-driven testing whether it is simply more at-home sample collection options or full testing products.  The obvious starting point for many of these efforts is likely to be in infectious diseases, but many of these value propositions are relevant to other areas including chronic disease management and reproductive health where decentralized testing has already gained some foothold to date. However, even with all the benefits of decentralized testing, manufacturers will still need to navigate the historic challenges impacting this space including poor reimbursement, stringent regulatory requirements and technological feasibility. Furthermore, serving all of these settings effectively will require additional considerations around affordability, patient education and engagement, ease of sample collection, platform connectivity, and distribution.
Despite all of these potential hurdles, we believe that the recent pandemic is the catalyst that will drive other stakeholders, beyond the already pool of diagnostic OEMs, to start thinking about how to overcome these challenges. We are hopeful that it will influence reimbursement and regulatory bodies, both within the US and in other developed markets historically resistant to accepting decentralized testing, to re-evaluate past approaches to evaluating these platforms. SARS-CoV-2 may be the catalyst that swings the pendulum back towards decentralization for the long-term.
About Author