Women's Health at Home: Reflections on a Rapidly Growing Space
By Masha Dumanis, Senior Director After decades lagging behind in funding, and as a result – innovation, women's health is finally having a moment. The intersection of women's health, digital healt…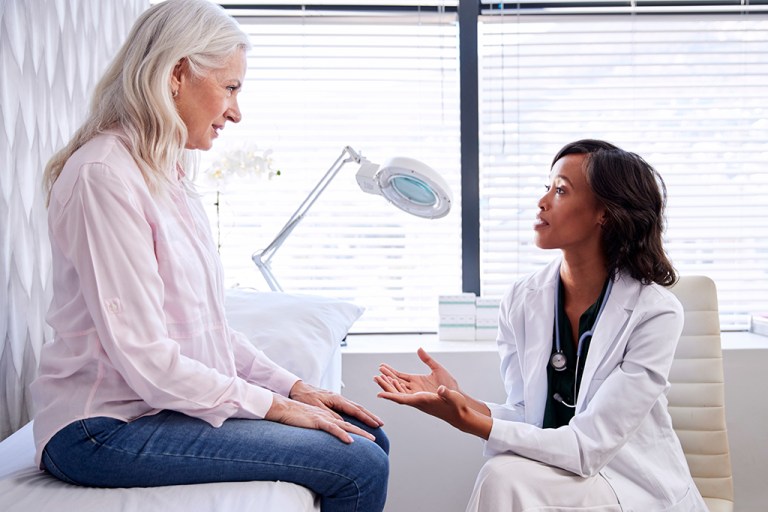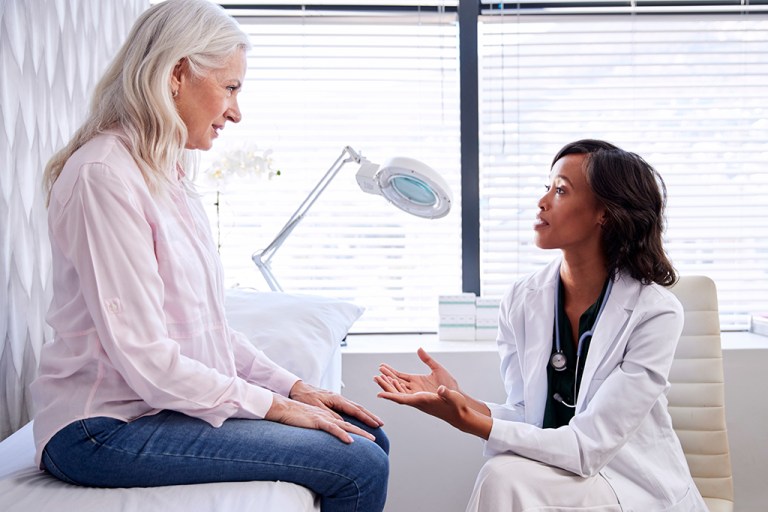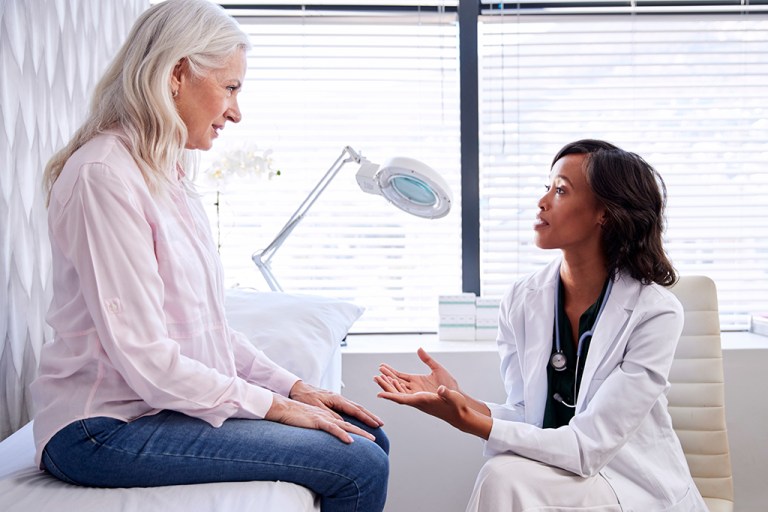 By Masha Dumanis, Senior Director
After decades lagging behind in funding, and as a result – innovation, women's health is finally having a moment. The intersection of women's health, digital health, medical devices and diagnostic tools, sometimes referred to as FemTech (though we are not fans of this particular terminology), brought in over $1B in VC funding for the first time in 2021, according to Rock Health.  Spurred, in many ways, by the urgency of COVID and the recognition of many women's health issues and access to care, especially prenatal care, investors have finally noticed, with deal counts at an all-time high. Maven Clinic was the first Digital Women's Health company to achieve unicorn status in 2021. In their 2021 annual report, non-profit organization FemTech Focus, estimates the market size will be over $1T by 2027, including many chronic conditions impacting women. With women representing 51% of the population and the overwhelming majority of household healthcare decisions, this revolution in care can't come soon enough.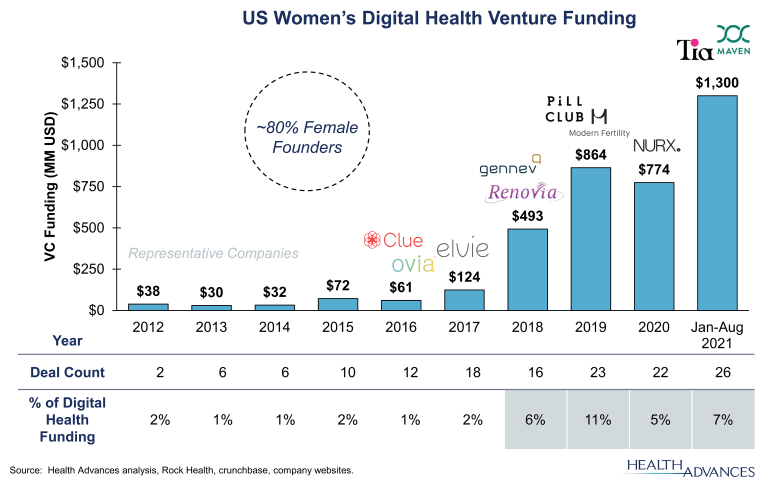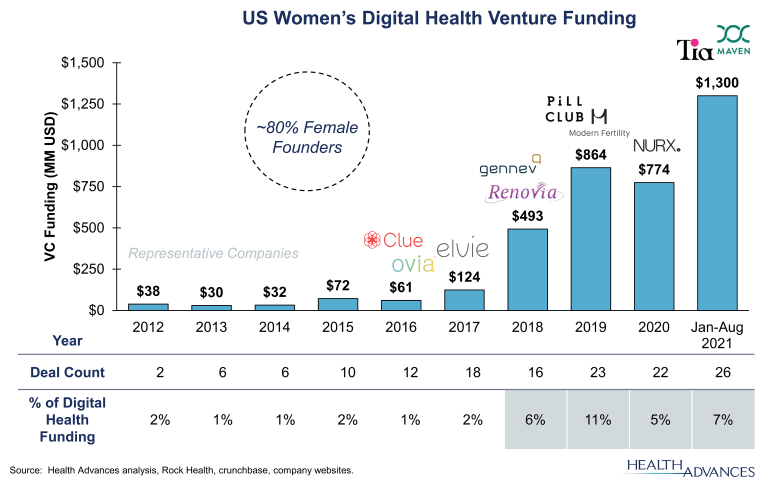 This past weekend we had the pleasure of attending the Women's Health at Home Panel as part of HBS' 19th Annual Healthcare Conference. The panel was moderated by Maneesha Giya, Managing Partner and Founder at FemHealth. Panelists included:
Rachel Blank – Founder and CEO, Allara Health
Gina Nebesar – Chief Product Officer, Ovia
Jannine Versi – Co-Founder and COO at Elektra Health
Lyndsey Harper, MD, FACOG – Founder and CEO, ROSY Wellness
Each of the panelists introduced their companies, each of which tackle a different challenge in the women's health world. Allara is a specialty care digital health platform targeting chronic conditions such as polycystic ovarian syndrome (PCOS) and endometriosis. Ovia is a leading platform for fertility, prenatal, maternal health and parental wellbeing – it is covered by over 2,000 employers and health plans. Elektra focuses on patients navigating the menopause transition. Finally, ROSY is a platform to address issues of sexual wellness and dysfunction helping patients who suffer with issues such as pain and arousal. The platform, like many of its peers, is grounded in evidenced based education, and also offers CBT (cognitive behavioral therapy) based self-help.
Many of the women founders reflected on how personal the founding journey was – recognizing a need in the healthcare space that was not being met, either for them as patients, or for their own patients. "Women were underserved, ignored, and not receiving adequate care – especially for many of these invisible or taboo conditions."
Impact of COVID

In many ways, the pandemic provided a silver lining for the world of digital tools and women's health. As the world locked down, in-person childcare shut down, and women took on a disproportionate share of household activities, dependent care, in addition to work – "this load became very visible…and employers started listening." Employers were forced to innovate or identify solutions to ease this burden, even as women left the workforce in droves. Employee retention became a key focus and solutions that addressed family planning, fertility planning, and prenatal care became benefits employers could offer to differentiate themselves.
The rapid uptake of telehealth has also supported many of these women's health businesses. Clinicians, patients, and most importantly, payers have found comfort with, and value in, virtual visits. All the founders agreed that the pandemic helped spur innovation and funding forward. The impact has been profound: "We have moved forward at least a decade in a few short months due to the pandemic."
As a result, the way women expect to receive care is shifting with the help of these tools.
Episodic Care is Going Away
Each of these businesses interacts with their users differently, but they all agree that the model of "episodic care delivery are over." Patients are eager to integrate care more fully into their lives, they are highly engaged with many of these platforms – some coming to the platforms up to 10x a day. We live in a digital world, and especially younger users "want answers now, people don't want to just see their doctor 1-2x a year." Similarly, ROSY decided to be a "virtual first" platform because clinicians did not always have time to tackle these "underground" issues in a brick-and-mortar setting.
Hurdles Remain
While the investment dollars, recognition of need, and enthusiasm are palpable, the panelists reflected on the very real challenges facing the industry, including lack of a seamless regulatory path and lagging reimbursement coverage. One of the panelists noted that the regulatory landscape remains fragmented, "you have to go state by state," which is onerous and time consuming.
Like most industries, and digital health in particular, women's health is challenged by evolving business models and reimbursement hurdles, particularly at the health plan level vs the employer level. Many of the companies in the women's digital health space have opted to start with either a DTC model, or to target employers. That said, most are still looking towards payer reimbursement as the holy grail. "The biggest thing is that insurance reimbursement is not set up for collaborative care models," one of the panelists emphasized. "Adoption from larger healthcare systems of businesses like ours remain the biggest gaps."
Founders recognize that it will take more than well designed apps to attract payer dollars. "You have to show with data that these interventions demonstrate outcomes – unless you invest in the research this won't get adopted," the panelists emphasized. Ovia is collaborating with the likes of Harvard Medical School and March of Dimes to do third party claims analysis and demonstrate outcomes on pre-term births and other metrics. "Insurers need to see these holistic, longitudinal programs."
End to End Solutions Will Take Time
The panelists emphasized that the industry was still very much in its infancy (if you'll pardon my pun): "We are pioneering a space". As a result, the solutions for each condition are still quite fragmented. While the digital space is seeing rapid consolidation after an explosion of innovation, FemTech will likely be on the tail end of this consolidation given its later entry into the space. "We are like where mental health was 10 years ago."
We are eager to follow the rapid evolution of this space as new products, services, and business models emerge, and as key stakeholders begin to recognize the need to support these tools. "Women's health is healthcare."
About Author