From Depressed to Confident – Shivaram's Transformation Story
Read how Shivaram went from being depressed to being confident by losing weight and transforming himself with the help of HealthifyMe.

Irregular eating and sleeping patterns due to work took a toll on Shivaram's health and he suffered from Laryngopharyngeal reflux disease, hypertension, anxiety, and depression.
During his counseling session on obesity and diabetes with his family doctor, he was advised on healthy & balanced eating, calorie deficit & portion control, and the importance of physical activity.
His doctor suggested that he use the HealthifyMe app for tracking food and workouts. He lost 56 kgs and 18 inches around his waist! A few things that helped him during his journey were intermittent fasting, using a kitchen scale to measure everything he ate, never skipping cardio, and sleeping well.
Before HealthifyMe

Lean and slender as a child, Shivaram was often addressed by the elders around him as a 'fragile glass doll'. "I was very lean, and the elders used to call me 'Gaaju bomma' which in Telugu means a fragile glass doll!" laughs Shivaram.
Along with being slender, Shivaram was also an introvert while growing up. He recalls, "Being an introvert and not actively participating in sports eventually led me to be a chubby boy."
It was during his secondary school that Shivaram's weight kept increasing. By the time he finished his education and started working, his weight fluctuated between 120 to 130 kilos.
All the extra weight and stress from work took a toll on his health. "Irregular eating & sleeping patterns due to my busy work schedule, and the extra weight seriously affected my health. I was diagnosed with LPRD and hypertension," remembers Shivaram.
In January 2020, Shivaram was rejected in an interview on physical grounds. This left him disappointed, but he resolved to lose the extra kilos instead! "The major turning point in my life was when I was rejected in an interview due to my morbid obesity – I weighed 133 kilos," recollects Shivaram.
While attempting to lose weight, Shivaram faced disappointment when he was unable to be consistent with his diet and workout routine. He says, "I tried to lose weight but failed miserably due to inconsistency."
All the disappointment affected Shivaram's mental health, and he was soon diagnosed with anxiety and depression. He says, "I was stressed and depressed, which eventually caused mental health problems. I sought help for the same and realized that everything was related to obesity."
Shivaram wanted to break the vicious cycle! Around the same time, his physician informed him of HealthifyMe and encouraged him to give it a shot.
After HealthifyMe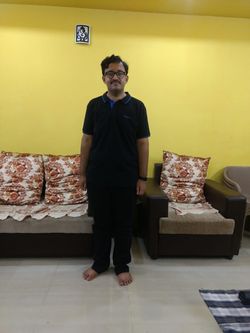 He downloaded the app immediately and used the free version for a while before signing up for a Transform plan. "It is safe to say, that decision did transform my life – I lost 56 kg and 18 inches around my waist!" he exclaims with joy.
Shivaram's weight loss journey came with its hurdles, but with the right guidance and support offered by the HealthifyMe coaches, he refused to give up. "Jithin, my fitness coach, curated my exercise regime as per my ability and body requirements." He adds, "Keerthi, my diet coach, designed my diet chart, keeping my preferences in view. She suggested many healthy tips and advised the best supplements. Both of them are very motivating! They were always available and responded to all my queries," says a beaming Shivaram.
After joining HealthifyMe, Shivaram has become consistent in following his health regime. The unhealthy habits that gave him pleasure before have been replaced with healthy habits. "Earlier I was obsessed with the word unlimited, and I was a huge fan of unlimited thalis and buffet at restaurants. But because of HealthifyMe, measuring food, counting calories, and macronutrients have become a new obsession, which is healthy," he says, with a smile.
The reactions that Shivaram received from his family and friends have been quite interesting. "My friends and family have been shocked to see my transformation. Some felt it was highly impossible, but they acknowledged that this is a massive achievement."
While most people appreciated Shivaram's journey, there were a few who doubted the spectacular transformation."Few people still think I underwent liposuction or gastric bypass surgery. But this transformation has been a result of my determination, consistency, and my HealthifyMe coaches' dedication!" Sivaram admits with pride.
Conclusion
Shivaram thanks HealthifyMe since he no longer suffers from hypertension, anxiety, or depression. Also, he has been off his medication for 5 months now! "HealthifyMe has been a constant, loyal, purposeful, and knowledgeable companion," concludes Shivaram Balajepalli.
Shivaram feels confident and is living his dream, while also setting up new goals to tone his loose skin and strengthen his body.
Are you inspired by Shivaram's transformation journey? Do you want to kick-start your transformation journey? Our coaches can help you!
Disclaimer: Shivaram was able to achieve his weight loss goals through customized diet and workout plans. Results may vary for you.
About Author