Runner Mom Breaks Through the Weight Loss Plateau
Feel helpless when you hit a weight loss plateau? Minal was also at this stage in her life, but she decided to break it by whatever means possible.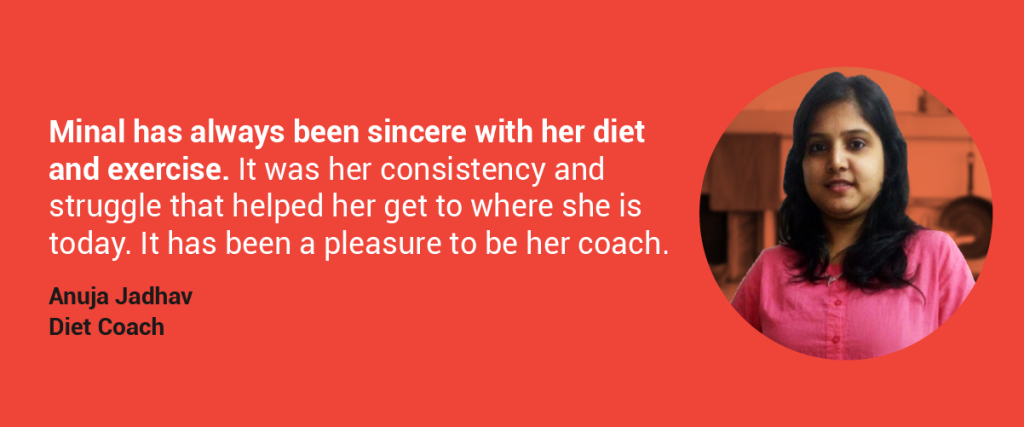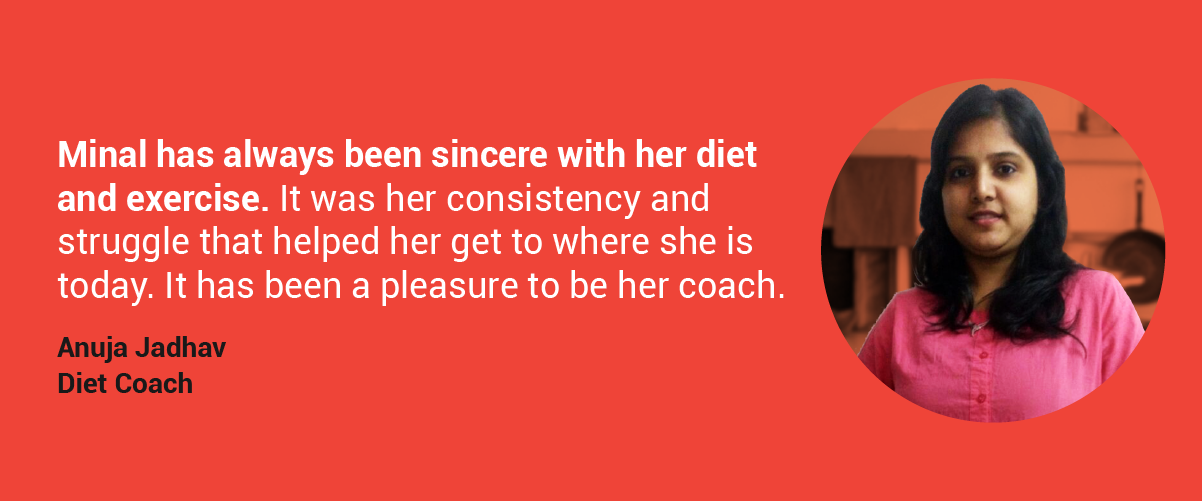 Breaking through a weight loss plateau and losing an extra 10 kg in just two months is not an easy task. Minal, who weighed 85 kg, is the symbol of sheer strength and willpower when it comes to this. Not only did she lose 20 kg on her own, but she also ran her first 5k marathon in Bhopal, in December 2016.
And, this is just the beginning of her story!
After being diagnosed with a prolapsed disc in her spinal cord – severe pain in the lower back that affects mobility; Minal was left in a state where moving around was a hassle! But something had to be done, cause what's life without mobility? Weighing 85 kilos at the time, she also faced trouble conceiving, which pushed her towards adopting a healthy life and dropping the excess kilos.
Minal had made her resolve, she wanted to have a baby and was willing to do anything to correct her weight. She started, by slowly changing her diet and increasing her activity levels. This helped bring about a positive change in her health, thus allowing her to conceive. On her daughter's arrival, Minal started working harder towards dropping kilos and correcting her prolapsed disc by following a healthy three-meal diet. On taking note of her progress, Minal's doctor gave the go ahead and she started with running for 5 km, every day. This routine helped her lose 20 kg over a period of two years.
"I had to do something to tip the scales in my favour"
Minal is used to standing and walking for long hours since she is a psychotherapist who delivers discourses on personality development on a daily basis. This resulted in a strain on her already injured back; while the extra weight just added to her condition. The first change that Minal made was, switching to a simple 3 meals a day diet. "I didn't want to follow any of those popular fad diets, instead I stayed away from sugary foods and aerated drinks, and also avoided heavy dairy products. The latter was relatively easy since I was never a huge fan", Minal told us while talking about the diet that she followed. Happy with her will to eat healthily, she decided to challenge herself further, and began running! Impressed with her speed and endurance, there was no stopping Minal, who soon started training for a marathon. Two years in, Minal lost an impressive 20 kilos! "It did take me two years to lose 20 kg, but I had to do something to tip the scales in my favour", says Minal about her 20 kg weight loss with just diet and running.
While everything was smooth sailing in her fitness journey, Minal hit the biggest hurdle that almost everyone comes across in their weight loss journey, the most dreaded weight loss plateau! It is the nature of the human body to adapt to its surroundings and changes it undergoes, therefore it is not a surprise that Minal hit a weight loss plateau, and nothing she did helped her break through it.

"Running for 7 km every day was not helping either"

Breaking through the weight loss plateau was a huge deal for her. Although Minal had lost 20 kg, she was not at her target weight yet. "It was so frustrating to see my weight stagnate at that 65-mark, week after week. Nothing seemed to be working in my favour. Reducing my meal portions didn't work; running for 7 km every day was not helping either", says Minal.
On the lookout for something to help her overcome the weight loss plateau, Minal came across HealthifyMe and decided to give it a try. On getting acquainted with her coaches she realized the importance of introducing variation in her workout routine along with eating the right kind of food. Diet coach Anuja Jadhav, created a plan that helped Minal breeze through the weight loss plateau while catering to her nutrition requirement. "I would never keep note of whether or not my meals had enough fibre and protein. Due to my hectic schedule, I never had time to eat the prescribed 5 – 6 meals a day. I would just prepare roti and some sabji and run to work! After Anuja came into my life, this changed. I started to prepare for each and every meal for the following day well in advance and made it a point to include fruits and nuts in ready-to-eat packs" says Minal, who believes the diet plan Anuja created for her is still doing wonders!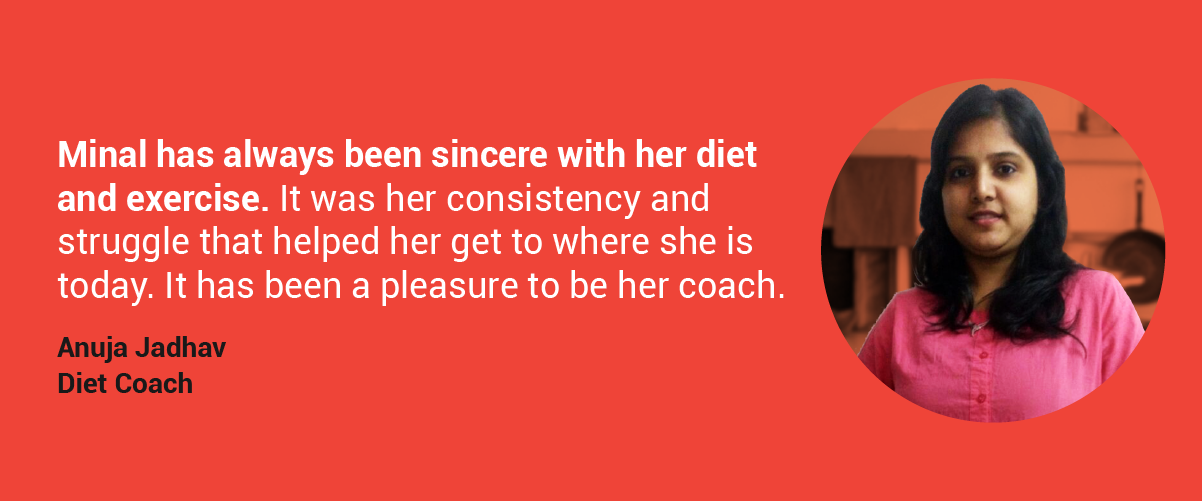 "Since I am a psychotherapist, I can read people very easily. On speaking to Rajesh Sir, I noticed in an instant that he knew what he was talking about. It is very difficult to come across someone whose theoretical knowledge is at par with their practical experience." Minal was all praises for Mr Napoleon Bonaparte, as she likes to call him, because of his strict and straightforward nature. On finding out that Minal was stuck at a weight loss plateau while training for a marathon, he devised a workout plan that entailed strength training and cardiovascular workouts, that jolted her body out of the weight loss plateau.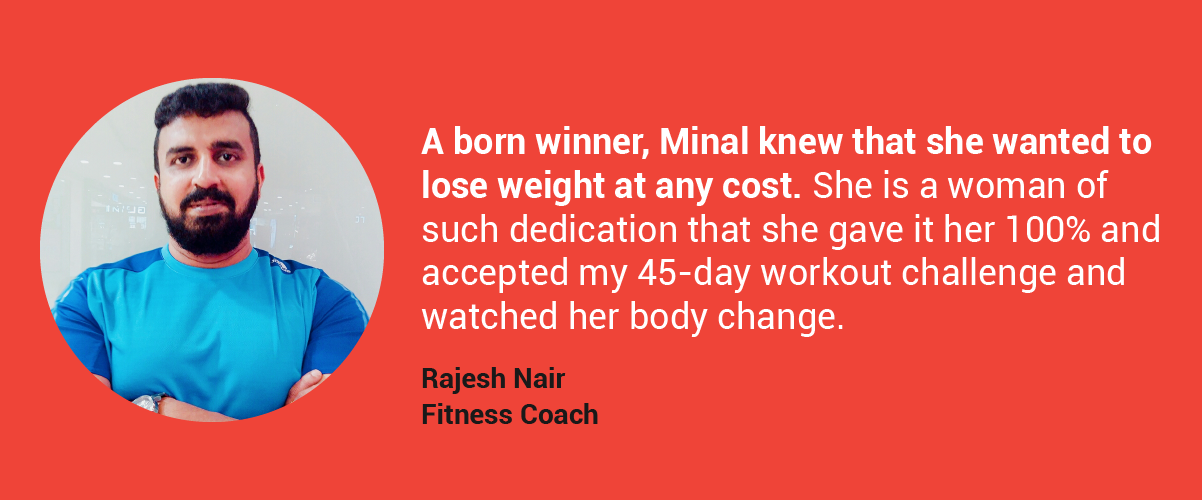 The diet and workout plans that were designed for Minal delivered almost instant results, and helped her lose 10kg in 2 months! Thus, breaking her weight loss plateau.
Minal's next focus is strength training and preparing for the Indore marathon that's taking place in February 2018. "A few of my friends and I have decided to run this marathon together, and we're all working with HealthifyMe's amazing coaches to train for it ", says Minal while signing off.
Minal broke through a weight loss plateau by bringing about the much-needed changes in her diet and fitness routine. If you are facing the same problem, our coaches are here to help you.
Disclaimer: Minal overcame her weight loss plateau and lost 10 kg in 2 months with the help of a customized diet and fitness plan. Results may vary for you, let us help you get the right plan.
About Author