A Business Owner puts #HerHealthFirst to Care Better for her Family
The story of a woman who puts the needs of her family before hers, but decided to give herself the gift of health and put #HerHealthFirst.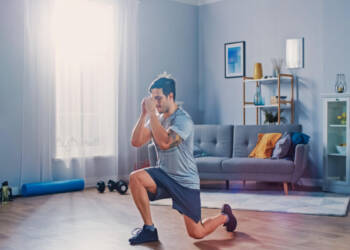 For someone who handles a business, takes care of her son and her family, stress is my best friend. That's when yoga comes into the picture.
Being a business owner and a mother is not an easy job. Maintaining the right balance between the family and professional life is very important.
Leading a hectic life, such as mine, takes a toll on one's health and well-being. We as women put our health in the back seat while we cater to everyone around us. I wanted to change that about myself.
I have been a fitness freak all my life and have been practising yoga and power yoga for the last 4 years now. Although I was benefiting from yoga I knew that I had to set my diet right. Not to lose weight but to stay fit and healthy.
How It All Began
Once while going through inspirational stories of leaders in business, I came across the story of the founders of HealthifyMe. This got me interested in the app and triggered an almost immediate download.
I realised that something was not right. While I was taking care of my fitness by practising yoga and power yoga every day, I still felt that there was something missing.
The Missing Link
On joining the application and logging in my daily activity and food intake I observed that my nutrition intake is not as much as my body requires. I am a person who doesn't like to spend time on eating food. I would always eat instant foods since it saved me a lot of time.
Credit goes to Hiral Patel, my diet coach. She was the one who educated me about what I should be eating so that my body gets the right amount of nutrients. It was an eye opener for me when Hiral told me that eating instant food was as bad as eating junk food.
Keeping in mind my affinity towards eating quick meals, she gave me a diet plan that suited me perfectly. What surprised me was that with all my limitations Hiral still had so many options for me to choose from. There wasn't a day where I would get bored with what I was eating. She was on her toes when it came to ensuring that I stayed on track with respect to my nutrient intake.
I have been practising yoga for the last few years and am at an advanced level right now. My yoga coach, Anshu Vyas, helped me to a great extent when it came to holding my postures for longer. Her guidance helped me correct my posture while at work since I would spend most of my day sitting in a chair. Her techniques helped me tone up my muscles as well as improve my stamina.
The Difference
I started noticing changes in my health and stamina as well. After one particular exchange of photographs that I had with Anshu, she told me that I was looking healthier than before and that there was a glow on my face. This positive feedback kept me motivated and now it has become a way of life for me.
"When you are fitness coach you seldom come across someone who is already into fitness. This aspect about Srabani caught my attention. She wanted to go beyond what she was doing and progressed quickly. She would continue her workouts even while travelling. It is very rare to find clients that push you and are fun to work with!" – Anshu Vyas, Yoga Coach
"The best part about Srabani is that she never said 'I cannot do it', her 'I will do it' attitude helped us work together and achieve the results she wanted. Today she is a great motivator for all those women who put their family and work before their own health." – Hiral Patel, Nutrition Coach
Disclaimer: The results can and may vary for you. Let us help determine the best approach for you to achieve your goal.
About Author