Nishant Ambastha Drops the Extra Kilos – An Inspiring Journey
Nishant Ambastha says he could never have achieved a weight loss of 9.6 kg in 6 months without HealthifyMe's help. Read on to find out more!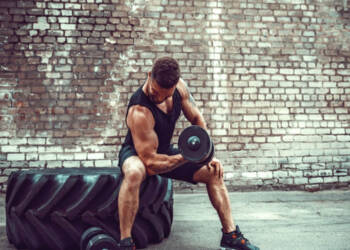 Weight before: 78 kg
Weight now: 68.4 kg
Lost 9.6 kg in 6 months
Growing up, Nishant Ambastha who was always on the heavier side, can't pinpoint the exact reason for his weight gain. "I was always active and played sports in school and college, so I don't really know how I touched 78 kg. Maybe I was eating too much junk food," he says. The 25-year-old Chennai resident isn't sure what inspired his decision to drop the kilos either. "I just decided one day, that I needed to try and get in shape. I can be healthier! I said to myself," he claims.
While watching exercise videos and doing a search on weight loss information online, Nishant came across HealthifyMe. "Upon using the app and going through the 7-day Premium Experience, I spoke to a diet coach who made me realise that I wasn't following a balanced diet and was choosing the wrong food. I found the advice helpful, so I opted for a customised plan, and thus began my weight loss journey" he says.
'People like me, who live away from home and work odd hours, replace breakfast and lunch with brunch. Neha explained why this was wrong'
Nishant worked with Healthifyme coach Neha Manchanda, on his diet plan. "The first thing she told me to do was stop eating deep-fried food and include more salads and fruits in my diet," he says. Working the afternoon shift, Nishant would only hit the sack by 1 am. Because he woke up late, he would end up skipping breakfast. "Most people like me, who live away from home and work odd hours, replace their breakfast and lunch with brunch on a daily basis. Neha explained why this was wrong, and said that I needed to have both meals," says Nishant, who began having a late breakfast of brown or multigrain bread with cucumber, carrots, onion and tomato along with boiled egg whites. The lunch that followed, was in small portions. "Earlier I ate until my stomach was full, but Neha asked me to reduce the number of rotis I was eating and have more salad instead. She also said increasing my water intake would leave me feeling fuller," he says. Dinner had always been Nishant's heaviest meal of the day. "I ate whatever was available, which was usually pulao or biryani," he says. After Neha educated him about how having a late dinner can contribute to weight gain, Nishant switched to grilled chicken with soup for his last main meal of the day. "While I was eating a lot of chicken earlier, it was mostly fried. My diet was missing out on all the healthy protein," he says.
Boiled corn without butter, sprout chaat, etc became Nishant's go-to snacks. "For the first few months, I tried cooking my meals myself but that didn't work. Mainly because I'm not a good cook!" he says, with a laugh. He became more conscientious about the food he was ordering. "I made sure it contained less oil, and avoided potatoes and rice for dinner," he says.
'Small changes to my diet and fitness routine made a big difference. As I began to feel healthier, I became eager to do more to lose weight'
Along with tweaking his diet, Nishant also got serious about his fitness regimen. Prior to joining HealthifyMe, he had enrolled in a gym, but he rarely worked out. "I'd go for four days, and then take a long break. This would continue until my gym membership expired," he recalls.
HealthifyMe fitness coach Priya, started him off with a daily hour-and-a-half routine of cardio and strength training. While he worked out at home for the first few months, Nishant has now renewed his gym membership and is quite diligent about exercising daily. He credits his coaches for his newfound motivation. "Both Priya and Neha were very helpful about clearing all my doubts and most importantly, they didn't ask me to drastically change my lifestyle," he explains. HealthifyMe's coaches helped Nishant adopt a new regimen, one step at a time. "The small changes made a big difference, and as I began to feel healthier, I became eager to do more to aid my weight loss transformation," he explains.
Within the first fortnight of joining HealthifyMe, Nishant noticed he was feeling lighter. "It was a positive start," he says, adding that within four-and-a-half months, he had shed almost 8 kg. "I could have lost more weight in six months, but couldn't due to irregularities in my schedule for the last two months," says Nishant, who has managed to maintain his weight at 68 kg since November 2016. "I'm sticking to the diet and exercise plan. I still need to lose 6-7 kg, but I'm not worried. I know I will be able to do it with HealthifyMe's help," he says.
'The best part about working with HealthifyMe is that the coaches don't let you drop the ball'
For now, Nishant is basking in all the compliments he is receiving and is busy having his wardrobe altered. "Initially, I would wear an XL or an L, but now I comfortably fit into an S or an M," he says proudly. He can't recall the last time he felt tempted to eat a piece of fried chicken. "When you start a weight loss regimen, you tend to lose steam after a while if you don't see results. The best part about working with HealthifyMe is that the coaches don't let you drop the ball. They tell you where you are going wrong, and work with you every step of the way. Their dedication to your weight loss keeps your enthusiasm levels high," he says.
HealthifyMe fitness coach Priya Vishal says Nishant was very regular with his workouts and stayed in constant touch with her. "When we develop a good rapport with clients, we usually get results. Nishant was an excellent communicator. He always took calls, and would message me if he had a query about a particular exercise so I was aware of the progress he was making. When he enjoyed a workout, or had to skip a day, he would share the good news as well as the bad news with me. The positive vibes flowing to and fro make a big difference to the plan's success," says Priya.
Inspired by Nishant's transformation? Our coaches can help you too
Disclaimer: The results can and may vary for you. Let us help determine the best approach for you to achieve your goal.
About Author