Post-pregnancy Transformation: Rachna Vadhera's inspiring journey
Saying no to junk food and following an exercise regime helped Rachna Vadhera lose 19 kg under HealthifyMe guidance, read more about this inspiring journey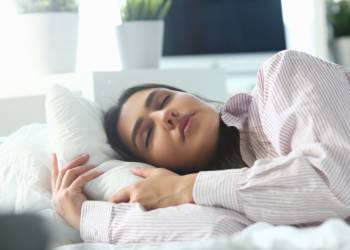 Read about Rachna Vadhera's inspiring journey from 80 kg to 61 kg in 6 months.
In honour of welcoming their second child in 2015, Rachna's husband gifted her a beautiful dress that she was to wear to the celebration. However, she was left heartbroken when she found out that she could not fit into the dress. "I had always been on the slim side, and weighed 55 kg when I got married back in 2011. But soon after, I began to gain weight," says Rachna, who gained almost 25 kg post marriage and two pregnancies.
The 27-year-old homemaker from Moga, Punjab, who paid little attention to her weight gain over the years, says the gift from her husband was a wake-up call. "At that moment, I realised I had just allowed myself to balloon over 80 kg. I promised my husband that by our anniversary, I would lose the weight. It was to be my gift to him," she recalls, laughing.
'I had made up my mind that I had to lose weight. I was seeking guidance when I found HealthifyMe online'
Unsure about how to go about losing weight, Rachna chanced upon a HealthifyMe ad on her Facebook page. She downloaded the app and opted for the seven-day free trial. "I had made up my mind that I had to lose weight, but I needed help to make it happen. I was seeking guidance when I found HealthifyMe online," says Rachna. Using the calorie tracker to log her daily food intake, she learnt how imbalanced her diet was. "For the first time, I realised how many calories I was actually eating, which explained why I had gained all that weight," she remembers. The fitness tracker was another eye-opener. "Since I wasn't exercising, I wasn't burning calories. HealthifyMe made me see that the two processes are interconnected," she says. During the free trial period, based on the advice received from a HealthifyMe coach, Rachna made some minor adjustments to her diet and started going for a walk in the morning. These small changes coupled with her continuous tracking of her calorie intake and burn showed her some positive results, which encouraged her to sign up for the premium plan.
Rachna believed a coach wouldn't just help her plan her weight loss regimen, but also be a sounding board for her and provide the much-needed motivation. "I was apprehensive about opting for HealthifyMe's premium services, as I wasn't confident about being able to follow it. But my husband encouraged me to start with the three-month plan," she says, adding that after successfully losing weight in that quarter, she subsequently renewed her plan twice over.
'My family would tell me, eat one pakoda, you won't put on weight. But I explained to them that every single pakoda leads to weight gain'
HealthifyMe nutritionist Vasudha, and later Naveeda, planned Rachna's diet. The first thing she was asked to do was cut out junk food and sweets. "I'm a homemaker living in a joint family, and I'm in the kitchen round the clock. Ours is a typical Punjabi home, where we cook a lot of fried snacks like samosas, tikkis and pakodas daily. And Sundays used to be my day to eat pizzas and burgers," Rachna says. Breaking this habit was tough initially, but today she can't recall why she enjoyed all these calorific items. "My family would tell me, eat one pakoda, you won't put on weight. But I explained to them that it's every single pakoda ultimately leads to weight gain. Now, although my coach has allowed to eat this kind of food occasionally, I am not tempted by it at all," she claims.
Swapping her paratha breakfast for oats and milk, Rachna began to cook separate meals for herself. "The vegetables I ate were made with no oil and very little salt and masala," she says, adding that she cut down her roti consumption from four to two at lunch, and added a bowl of curd and salad to her daily diet. She was also given a protein-rich pre and post workout snack plan. "I have almonds and a banana before exercising and a glass of vanilla soya milk after," she says, adding that she was amazed how much food she was allowed to eat while on the diet. "My coach Vasudha also introduced me to new kinds of food, including murmura and several South Indian preparations. I had never eaten a dosa before, and now I don't eat anything else when I go out," she says. Regulating her meal timings, to start her day and end it earlier, as well as consistent portion sizes, helped her bring her weight down.
Her exercise plan, prepared by HealthifyMe fitness coach Anisha, included warm-up, cardio and stretching. "For the first month, all I did was walk for one hour in the morning and in the evening, use the exercise bike for one hour," says Rachna, who joined HealthifyMe when her younger son was around five months old. Given that this was the first time she was exercising, she found it hard to find her rhythm. "Anisha was very supportive, and encouraged me to stay on course. Now I'm so addicted to working out that if I have to skip it for some reason, I actually miss it," she says.
'It was great to have someone tracking what I ate and whether I exercised'
The first month after joining HealthifyMe in May, Rachna was shocked to learn she had lost 4-5 kg. By August, she was down to 63-64 kg. "I gave it my best and am happy with the results," says Rachna, who credits her coaches for giving her the much-needed encouragement. "It was great to have someone track what I ate and whether I exercised. Knowing that I had someone to pull me up when I cheated on my diet, I'd often find myself 'confessing' to Anisha about eating a sweet as a result of the guilt I felt when I went off my meal plan," Rachna says, laughing. "Now I know how many calories I have to burn if I eat a samosa or tikki, just the thought of it discourages me from having one."
Anisha, however, says Rachna's amazing transformation can be attributed to her dedication to the plan. "She followed all my instructions religiously, even when she was on vacation," says Anisha, adding that Rachna was extremely active in group challenges and served as a constant source of motivation to others.
All the compliments she has received since her transformation has made it worth the effort. "Recently, we shifted into a new house and had a function to celebrate the move. All our relatives and friends asked me what I had done to lose weight, and I recommended they join HealthifyMe," she says, adding that her biggest achievement has been keeping the promise to her husband. "For our anniversary, I wore the dress he had bought me. He said I looked perfect," she says. He may think so, but Rachna feels she still has some way to go. "I'm maintaining my 61 kg weight now, but have started resistance training to tone my body. Of course, I couldn't have accomplished any of this without HealthifyMe's help," she concludes.
Inspired by Rachna's weight loss transformation? Our coaches can help you
Disclaimer: The results can and may vary for you. Let us help determine the best approach for you to achieve your goal.
About Author