3 healthy paneer recipes
Here are the healthy paneer recipes #1 Paneer tikka #2 Stir fry paneer with broccoli #3 Paneer toast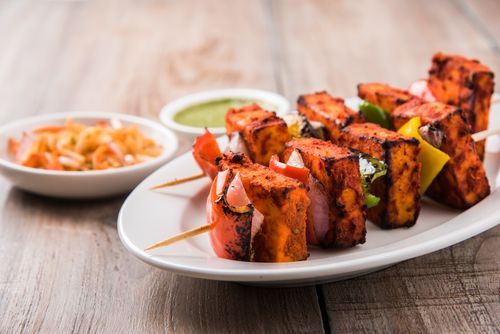 To avoid monotonous consumption of paneer, you may prepare various recipes that are tasty and do not alter their nutritional qualities. Some of the best healthy recipes of paneer are: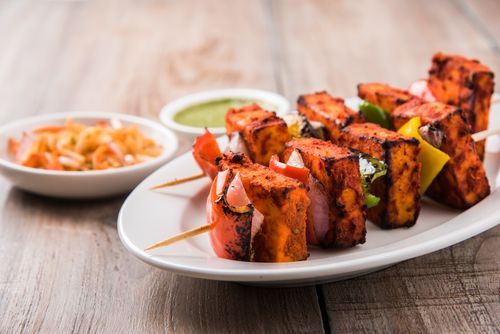 #1 Paneer tikka
Paneer tikka is one of the healthiest appetizers. Apart from appetizers, it may also find its place in sandwiches, pizzas, and wraps
Ingredients
200

gms

paneer

1

Onion

1

Bell pepper

6

tbsp

Thick curd

1

tsp

Red chili powder

1

tsp

Garam masala

1

tsp

Chat masala

Salt to taste

1

tsp

Coriander powder

1

tsp

Turmeric powder

1

tsp

Garlic paste

1

tsp

Ajwain seeds

1

tsp

Dried fenugreek leaves crushed

1

tsp

Mustard oil
Instructions
Cut paneer in nine squares.

Chop one large onion and bell pepper. The size of the chopped onions and bell pepper should be similar to the paneer cubes.

Add thick curd, red chili powder, garam masala, chat masala and salt, coriander powder, and turmeric powder in a mixing bowl.

Add garlic paste, ajwain seeds, dried fenugreek leaves, and mustard oil to the same mixing bowl.

Then, add the onion and bell pepper into the marinade and coat them properly.

Add the paneer cubes to the marinade and mix.

Cover and place the bowl in the refrigerator for one hour.

After taking the mixture out, thread the paneer, onions, and bell pepper on a skewer.

Spray some oil on a heated tawa. Place the skewers on the center and grill them on medium heat.

Turn the skewers constantly to grill the ingredients evenly. Grill them until they turn golden yellow.

Place the skewers on the serving plate and serve with green chutney.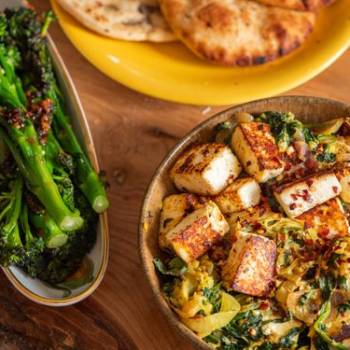 #2 Stir fry paneer with broccoli
Stir-fried vegetables with paneer is a perfect low carb healthy option for a light meal or those who are looking to manage their weight.
Ingredients
1

head

broccoli cut into florets

1

cup

Spinach leaves

200

gms

Paneer

1

tbsp

Olive oil

3

chopped

Garlic cloves

1/2

tsp

Chilli flakes

1/2

tsp

Dried Oregano

Salt to taste

1

tsp

Lemon juice

1

tsp

Garam masala
Instructions
Cut paneer into one-inch cubes.

Parboil the broccoli florets in water for 2 minutes and strain.

Heat oil in a pan and then add the garlic & saute.

Add the paneer cubes and saute for a minute.

Add the broccoli and seasonings and saute for two minutes.

Lastly, add the spinach, cook till it wilts and turn off the flame.

Add the lemon juice and serve hot.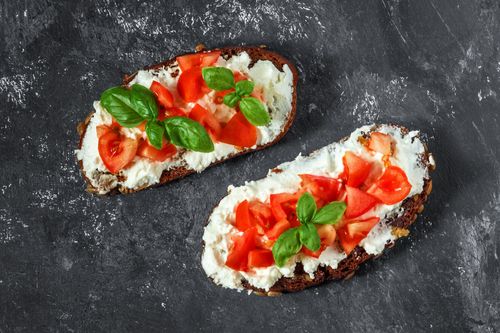 #3 Paneer toast
Paneer toast is a healthy breakfast option that can provide you with adequate energy for the whole day. Making paneer toast is very easy.
Ingredients
Paneer slice

Ghee/butter

1

Onion

1

Tomato

2

Bread slices

Mint and cilantro leaves

2

tbsp

Salt
Instructions
Pour some ghee or butter into a frying pan. Add onions and tomatoes to the pan and fry them on medium heat

Crumble the paneer and add it to the frying pan along with salt and mix it thoroughly. Put the mixture in a bowl.

In a different pan and add some ghee or butter. Then place two pieces of bread in the pan.

Spread the paneer evenly on the bread. Sprinkle finely chopped mint and cilantro leaves.

Cover the pan and cook it on low flame for 3-4 minutes. Your paneer cheese toast is ready.