Is Cardiovascular R&D Ready for a Comeback?
By Justyna Bomba, Senior Analyst; Dr. Holger Müller, Vice President; and Sheela Hegde, Partner Key TakeawaysInvestments in cardiovascular research have significantly declined in the past decades, e…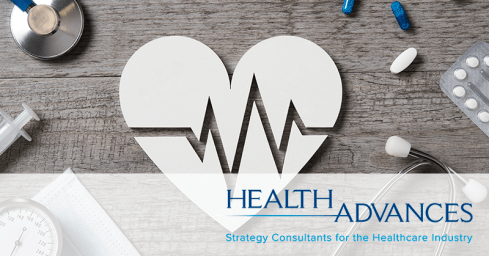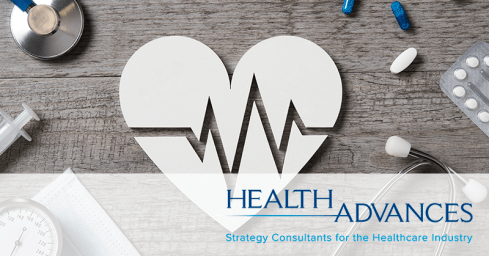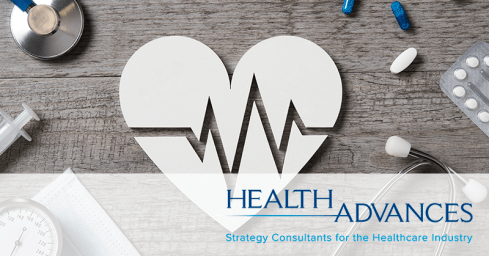 By Justyna Bomba, Senior Analyst; Dr. Holger Müller, Vice President; and Sheela Hegde, Partner
Key Takeaways
Investments in cardiovascular research have significantly declined in the past decades, even though cardiovascular-related morbidity and mortality remain the world's number one killer

Regulatory agencies have introduced incentive mechanisms that are largely based on the concept of a "serious disease," disfavoring slowly progressing chronic diseases like many cardiovascular indications

Commercial challenges due to the availability of safe and generic treatment options have become a major reason to abandon cardiovascular development

However, new treatment approaches to cardiovascular diseases, leveraging innovative drug modalities and novel biological targets, have successfully advanced into late-stage development

Recent acquisitions suggest that cardiovascular research is poised for a comeback and can offer financial rewards to involved companies

Introduction
Almost unnoticed due to the pre-occupation of writers and readers with the COVID-19 pandemic, Novartis released new data from three pivotal studies involving the experimental drug inclisiran1 following an earlier acquisition of The Medicines Company late in 2019.2 Is this news, and the earlier acquisition, an early sign of a renewed interest in cardiovascular development?
Cardiovascular related diseases are expected to remain the world's number one killer
According to the WHO, cardiovascular diseases represent the leading cause of death globally, with 17.9MM premature deaths registered in 2016.3 In comparison, cancer-related mortality accounted for 9.6MM deaths in 2018 globally.4 Both prevalence and incidence numbers have been steadily increasing for cardiovascular- and oncology-related diseases almost in parallel.
Figure 1: Global CVD Prevalence and Oncology Incidence by Region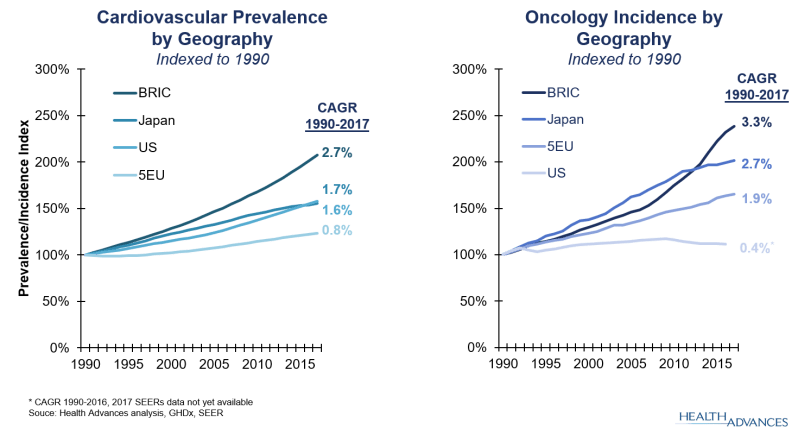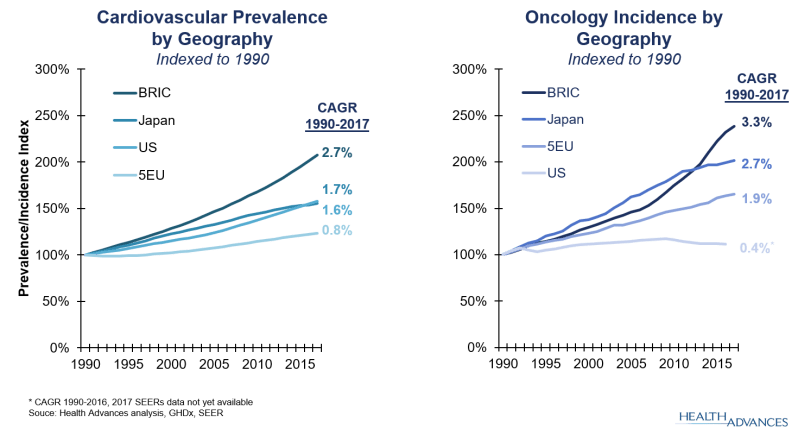 However, the comparison between cardiovascular and oncology sales paints an entirely different picture, with oncology sales surging by 15% and cardiovascular sales declining by 2% annually over the same period (2012-2024e).
Figure 2: Global Sales Distribution – Cardiovascular versus Oncology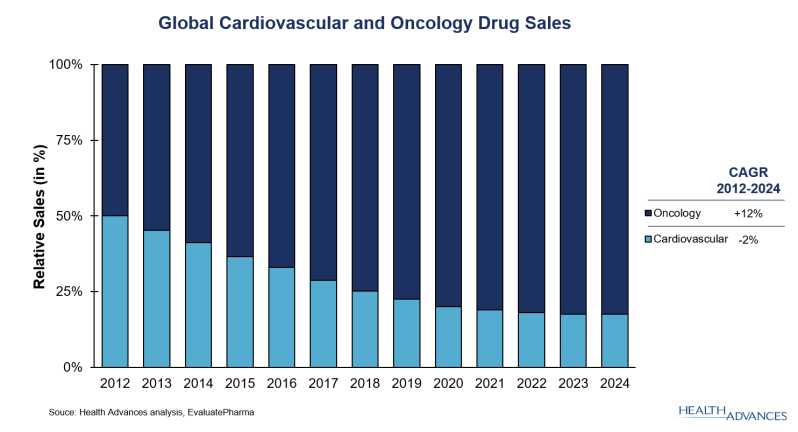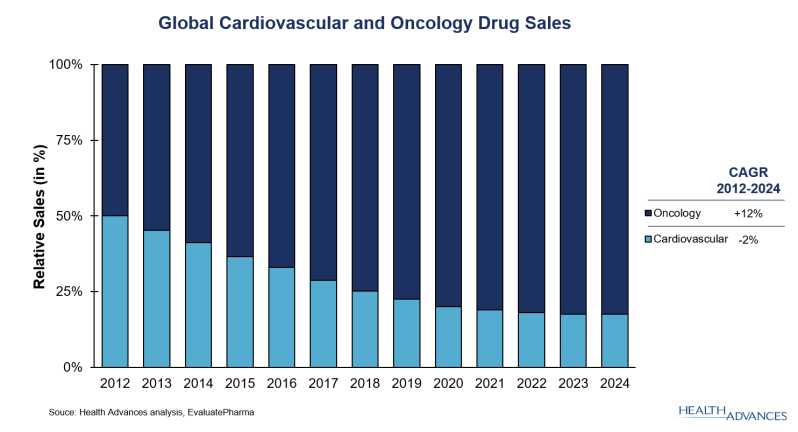 Has Pharma stopped investing in cardiovascular research?
In the 1980s, cardiovascular FDA approvals outnumbered oncology approvals by 5:1. This picture changed dramatically over time, and in the past decade, oncology approvals outnumbered cardiovascular approvals 2:1. In line with this observation, cardiovascular focused trials have been stagnant while oncology trial activity has accelerated by 10% annually.
Figure 3: FDA Approvals and Clinical Trial Activity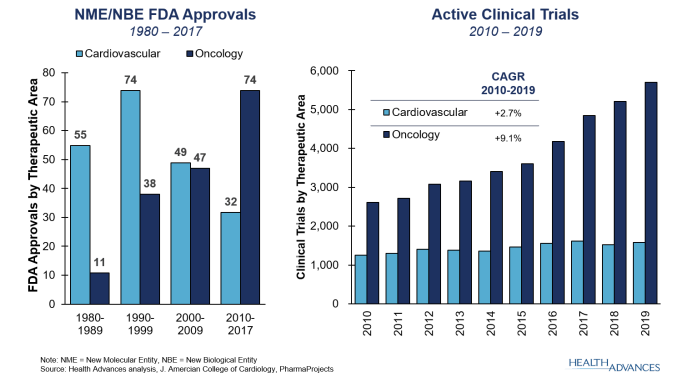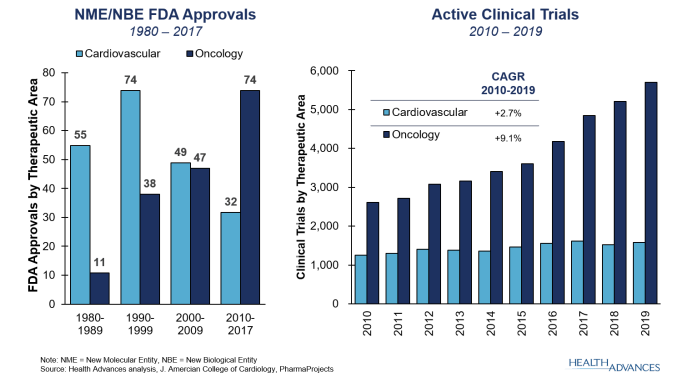 The realization that gene damage and gene modifications can cause cancer was arguably one of the greatest research advances in the modern area, paving the way for a multitude of new therapies that target specific cancer indications. But how can the lackluster innovation in cardiovascular research be explained?
One aspect might be attributed to the lack of regulatory incentives. The concept of regulatory incentive mechanisms was first introduced with the Orphan Drug Act in 19835, but the first program, the Fast Track designation, was only implemented in 1988, followed by two additional drug development incentive schemes, the Priority Review and the Accelerated Approval in 1992.6 The intention of these regulatory incentive schemes centers around the support of drugs against serious conditions. Providing proof of a serious disease is much easier in acute and fast progressing indications like cancers, than slowly progressing chronic indications like many cardiovascular diseases. It is therefore not surprising that a recent review by van Norman7 identified that the FDA awards special designations far more frequently to oncological programs than cardiovascular programs, a fact that was also highlighted in an earlier Health Advances publication focusing on accelerated pathways for market advantage.8
Another barrier to cardiovascular development can be attributed to a higher perceived investment risk. Due to the large potential patient population, compounded by the availability of effective and safe generic treatment options, the health economic hurdles of cardiovascular development are significantly higher than in other therapeutic areas. Consequently, commercial reasons were cited as the main reason for cardiovascular trial failure in a recent publication by Fordyce et al.9
Figure 4: Comparative Regulatory and Commercial Advantages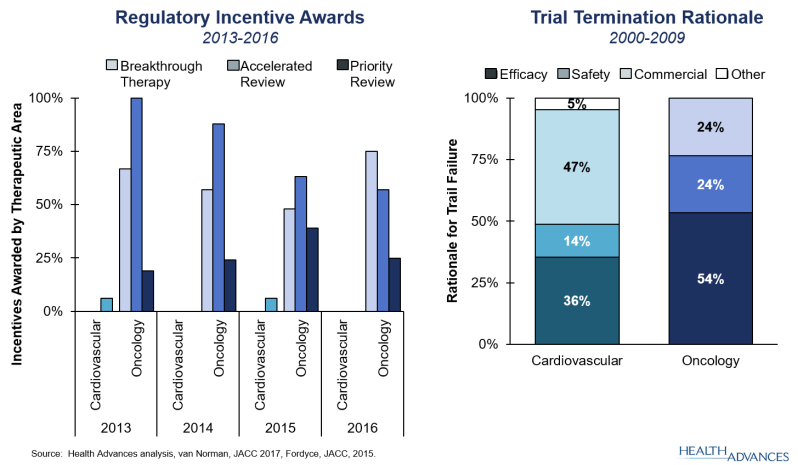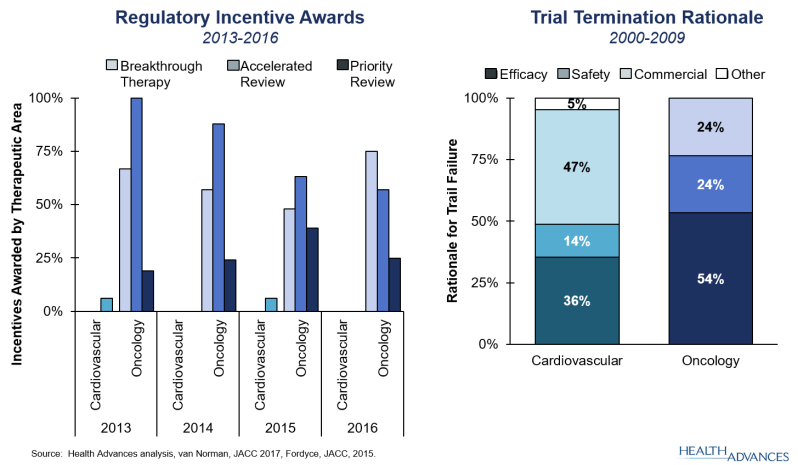 Is cardiovascular an attractive therapeutic area to invest in?
A comparison of various factors related to investment risk, however, suggests that cardiovascular research may be attractive indeed. The cumulated probability of success is significantly higher in cardiovascular than in oncology; clinical trials are generally shorter and average costs are lower, with the notable difference of Phase 3 cardiovascular trials.  
Figure 5: Investment Risk Parameters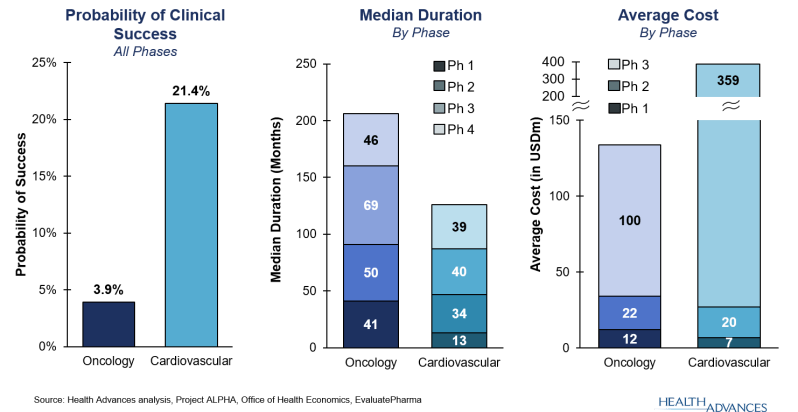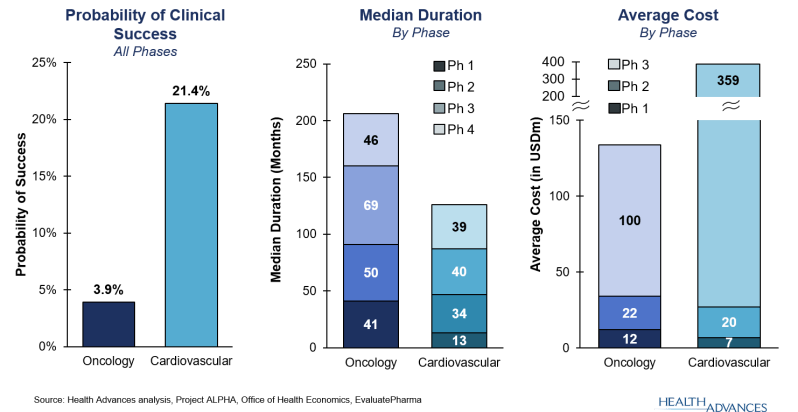 Financially, investments in cardiovascular research also seem to be rewarding. Recent deal statistics by Silicon Valley Bank suggest that upfront and total multiples achieved for cardiovascular transactions trump oncology comparables, providing sound evidence that development activities in cardiovascular indications can deliver attractive financial returns.10
Figure 6: Deal Statistics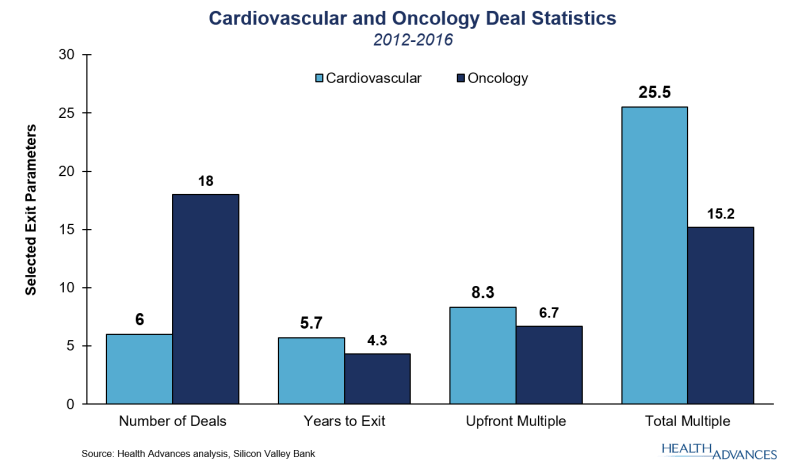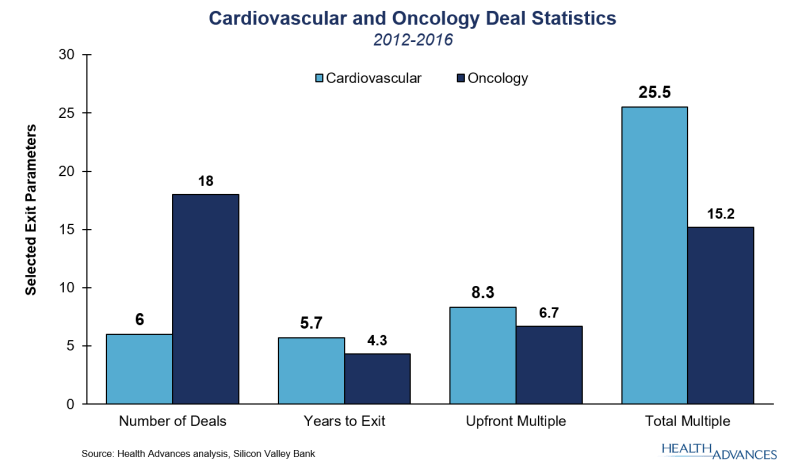 Upcoming modalities in cardiovascular research
With inclisiran, we are potentially looking at the first gene silencing therapy in a cardiovascular disease based on siRNA technology targeting proprotein convertase subtilisin/kexin type 9 (PCSK9). Initial results from the ORION trial suggest that patients can benefit from improved LDL-C reduction and increased convenience with less frequent dosing. Gene silencing technology is also being applied by two other earlier stage development programs from Ionis and Amgen, however targeting apolipoprotein (a), a biological target with lower clinical evidence than PCSK9. The two therapies are based on 2nd generation antisense and siRNA technologies, respectively, and expected to deliver more convenient dosing and potentially improved safety. Interestingly, Novartis and Amgen, two established pharmaceutical companies, are pursuing the same biological target with a competing gene silencing technology.
Less advanced than gene silencing is actual gene therapy in the treatment of cardiovascular diseases. Two recent late-stage failures from Sanofi11 and Renova12 point to the relative immaturity of using gene therapies in cardiovascular research – it is not surprising that the majority of gene therapy trials are currently sponsored by research institutions. Helixmith, a company spun out of the Seoul National University, is one of the few commercial entities with a late-stage opportunity in development. The company is currently developing its Engensis platform in four different indications, including ischemic heart disease (IHD), and initial evidence for its efficacy has been demonstrated in a phase 1 clinical trial. Even earlier stage initiatives are being pursued by XyloCor and DinaQor, with the latter recently having entered into a licensing agreement with BioMarin.13
Compared to gene therapies, cell therapies have advanced to later stages of clinical development with three programs currently in phase 3. These therapies focus on mitigating post-event complications. Mesoblast's Revascor aims to reduce scarring and fibrosis and spur the regeneration of the heart muscle. A similar approach is being pursued by ReNeuron and BioCardia. Caladrius' CLBS12 therapy however, while also targeting a cell regeneration approach, deploys CD34+ cells to improve circulation in the microvascular structure. Of note here is that CLBS12 is developed under the Japanese regenerative medicines' framework,14 which has established a clear route to approval and commercialization via a conditional approval mechanism.
In addition to innovative modalities like cell and gene therapies, biopharmaceutical companies are also investing in novel targets for small molecules. Cytokinetics and Myokardia target the cardiac myosin protein, aimed at correcting cardiac muscle function. This approach also attracted the interest of Amgen, which entered into a licensing collaboration with Cytokinetics to advance omecamtiv mercabil15 development.          
A selection of more advanced therapies in cardiovascular development is listed in Figure 7.
Figure 7: New Modalities in CVD Development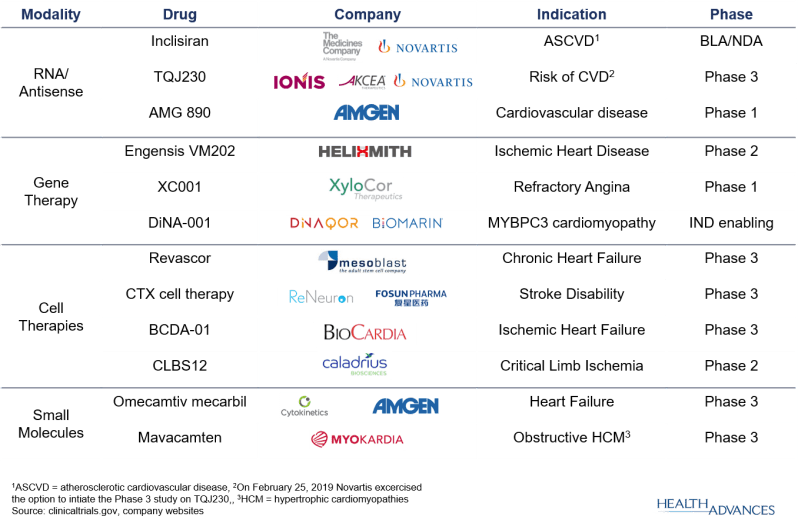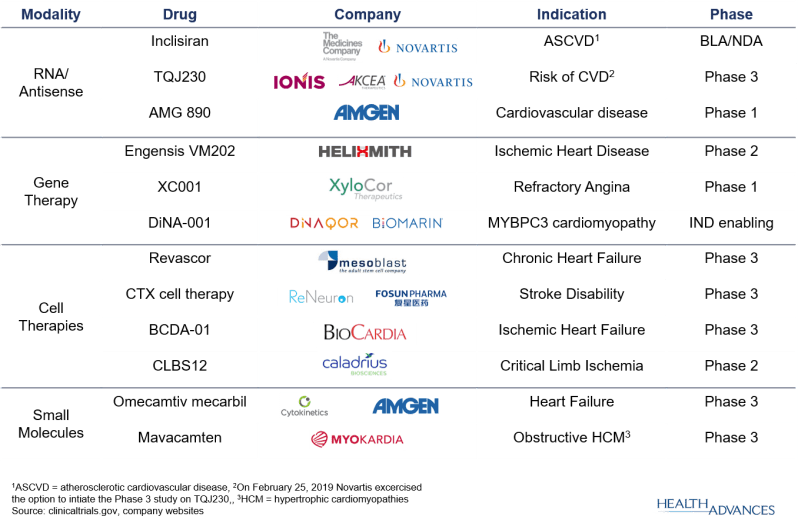 Conclusion
Investments in cardiovascular research have significantly declined in the past decades, and consequently, new treatment alternatives have not emerged even though cardiovascular-related morbidity and mortality remain the world's number one killer. Regulatory agencies may have contributed to this trend by introducing incentive mechanisms that focus on the concept of a serious disease, an aspect more difficult to demonstrate in chronic conditions. Another contributing factor has been the availability of safe generic treatment alternatives; however, an ever-increasing cardiovascular mortality suggests that these treatments may not be as effective as needed. Consequently, new approaches to the treatment of cardiovascular diseases are required, and a review of the most advanced clinical candidates suggests that treatment outcomes can be improved once these agents become available for patients. Last year's acquisition of The Medicines Company clearly showed that innovative approaches can also be financially rewarding for the innovator.         
About Author