Why Should You Include Paneer in Your Diet?
Let's understand why you should eat paneer. This is for both vegetarians and non-vegetarians looking for a low-carb & high-protein dish.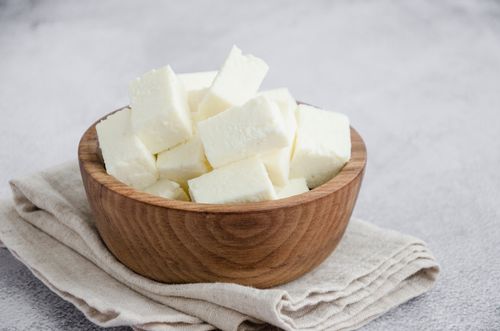 Summary: This article talks about why you should eat paneer, also known as Indian cottage cheese. It contains many vitamins, minerals, and antioxidants that are beneficial for health. It helps in meeting the protein requirements of vegetarian people. You can include paneer in your diet by incorporating it into several dishes. Paneer is also beneficial for people who are on a low-carb and high-protein diet.
Introduction
A significant part of the Indian population is vegetarian. Many ancient texts and modern science call milk a complete food. Indians consume half of the produced milk in its original form and the remaining is for making various milk products such as ghee, butter, paneer, cheese, ice cream, and milk powder.
Paneer is rich in fats and proteins and is also a good source of various vitamins and minerals. The nutritional power of paneer lives in the presence of protein, which contains all essential amino acids. It is an ideal food for growing children, adults, infants, and pregnant women.
Nutritional facts of paneer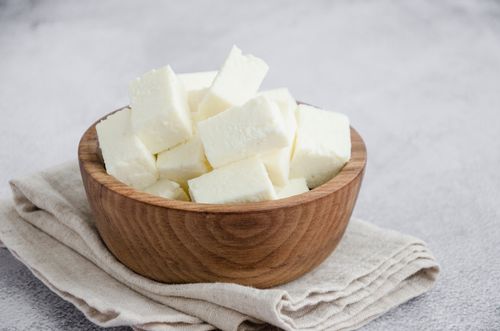 Nutritional information of paneer (made of cow milk) per 100 g:
| | |
| --- | --- |
| Calories | 265 kcal |
| Fat | 20.8 g |
| Protein | 18.3 g |
| Carbohydrates | 1.2 g |
| Calcium | 208 mg |
| Zinc | 2.7 mg |
| Magnesium | 26.6 mg |
Rich in high-quality protein: Paneer comprises high-quality protein that provides essential amino acids.
Premium source of vitamins and minerals: Paneer contains minerals, such as calcium, zinc and magnesium. It also contains vitamins, such as vitamin B12, vitamin D, folic acid, vitamin C, and vitamin A.
Promotes bone health: Vitamin D and calcium present in paneer makes bones stronger and prevents osteoporosis.
Manages blood sugar levels: Magnesium present in the paneer controls blood sugar level and prevents sugar spiking.
Promotes cardiovascular health: Paneer helps manage blood pressure levels and helps in reducing cardiovascular complications.
Improves digestion: Paneer contains phosphorus that prevents constipation and promotes digestive health.
Powerful antioxidant source: Various vitamins present in paneer, such as vitamin A, acts as powerful antioxidants.
Improves metabolism: Paneer provides energy to the body and keeps the body healthy. Further, it prevents metabolic disorders such as diabetes.
Reduces risk of cancer: Minerals, such as selenium and potassium, reduce cancer risk by preventing the accumulation of cancer cells.
Pregnant women: Folic acid and vitamin B12 present in paneer are good for pregnant women.
3 healthy paneer recipes
To avoid monotonous consumption of paneer, you may prepare various recipes that are tasty and do not alter their nutritional qualities. Some of the best healthy recipes of paneer are:
#1 Paneer tikka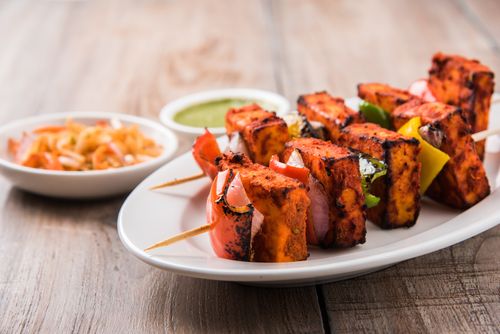 Paneer tikka is one of the healthiest appetizers. Apart from appetizers, it may also find its place in sandwiches, pizzas, and wraps.
Ingredients:
200 gms paneer
Onion (1)
Bell pepper (1)
Thick curd (6 tablespoons)
Red chili powder (1 teaspoon)
Garam masala (1 teaspoon)
Chat masala (1 teaspoon)
Salt to taste
Coriander powder (1 teaspoon)
Turmeric powder (1 teaspoon)
Garlic paste (1 teaspoon)
Ajwain seeds (1 teaspoon)
Dried fenugreek leaves crushed (1 teaspoon)
Mustard oil (1 teaspoon)
Steps:
Cut paneer in nine squares.
Chop one large onion and bell pepper. The size of the chopped onions and bell pepper should be similar to the paneer cubes.
Add thick curd, red chili powder, garam masala, chat masala and salt, coriander powder, and turmeric powder in a mixing bowl.
Add garlic paste, ajwain seeds, dried fenugreek leaves, and mustard oil to the same mixing bowl.
Then, add the onion and bell pepper into the marinade and coat them properly.
Add the paneer cubes to the marinade and mix.
Cover and place the bowl in the refrigerator for one hour.
After taking the mixture out, thread the paneer, onions, and bell pepper on a skewer.
Spray some oil on a heated tawa. Place the skewers on the center and grill them on medium heat.
Turn the skewers constantly to grill the ingredients evenly. Grill them until they turn golden yellow.
Place the skewers on the serving plate and serve with green chutney.
#2 Stir fry paneer with broccoli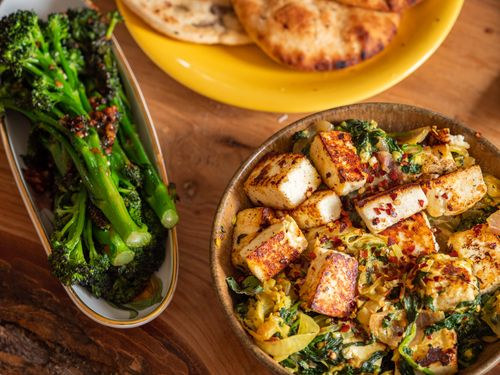 Stir-fried vegetables with paneer is a perfect low carb healthy option for a light meal or those who are looking to manage their weight.
Ingredients:
1 head broccoli cut into florets
Spinach leaves – 1 cup
Paneer 200 gms
Olive oil 1 tbsp
Garlic cloves – 3 chopped
Chilli flakes 1/2 tsp
Dried Oregano – 1/2 tsp
Salt to taste
Lemon juice – 1 tsp
Garam masala – 1 tsp (optional)
Steps:
Cut paneer into one-inch cubes.
Parboil the broccoli florets in water for 2 minutes and strain.
Heat oil in a pan and then add the garlic & saute.
Add the paneer cubes and saute for a minute.
Add the broccoli and seasonings and saute for two minutes.
Lastly, add the spinach, cook till it wilts and turn off the flame.
Add the lemon juice and serve hot.
#3 Paneer toast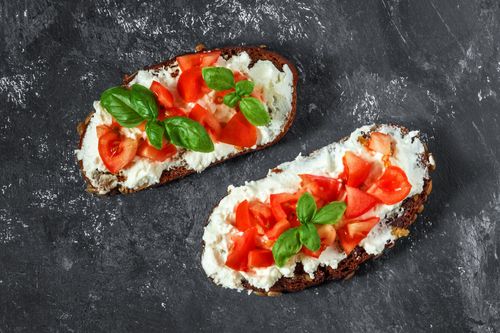 Paneer toast is a healthy breakfast option that can provide you with adequate energy for the whole day. Making paneer toast is very easy.
Ingredients:
Paneer slice
Ghee/butter
Onion (1)
Tomato (1)
Bread slices (2)
Mint and cilantro leaves
Salt (2 tablespoons)
Steps:
Pour some ghee or butter into a frying pan. Add onions and tomatoes to the pan and fry them on medium heat.
Crumble the paneer and add it to the frying pan along with salt and mix it thoroughly. Put the mixture in a bowl.
In a different pan and add some ghee or butter. Then place two pieces of bread in the pan.
Spread the paneer evenly on the bread. Sprinkle finely chopped mint and cilantro leaves.
Cover the pan and cook it on low flame for 3-4 minutes. Your paneer cheese toast is ready.
Conclusion
Paneer consumption has many health benefits. It improves immunity and helps to build stamina. It enhances bone density and promotes cardiovascular health. However, consuming paneer in a moderate amount as a large quantity may cause digestive problems.
Resources:
doi.org
food.ndtv.com
rebootwithnature.in
Frequently Asked Questions (FAQs)
Q. Can I eat paneer even when I have a fever or indigestion?
A. There is no concrete evidence to confirm that eating paneer during fever has side effects. However, theoretically, it is not a good eating option while having a fever. The digestive system does not function optimally during fever. Similarly, paneer is not a good food item for anyone having indigestion. However, if you wish to eat paneer during fever or indigestion, only eat cooked paneer as the uncooked form may stress the digestive tract.
Q. How to test the quality of the paneer?
A. Paneer is a milk product and thus has a limited shelf life. However, because of its high cost, many suppliers may supply spoiled leftovers. Good-quality, fresh paneer provides optimum health benefits. Spoiled paneer may also cause gastric side effects. Spoiled paneer tastes sour and has a foul smell. Bad-quality paneer is brownish or yellow, and the texture is somewhat slimy.
Q. How to store paneer for maximum shelf life?
A. Always store paneer in appropriate conditions to increase its shelf life. Paneer kept at room temperature for more than two hours may lose its freshness and should be discarded. The ideal way to maintain the freshness and quality is to store it in a refrigerator. The paneer may lose moisture from its outer layer in a fridge. Thus, wrap the paneer with a moistened muslin cloth before keeping it in the refrigerator. Do not keep paneer for more than 2-3 days in the fridge as it may harden and harbor germs.
Q. What are the side effects of eating paneer?
A. Although paneer is a healthy eating option, it may cause side effects in some people. People who are immunocompromised, have a sedentary lifestyle, and are allergic to dairy products should avoid consuming paneer. The side effects due to paneer consumption include food allergies and digestive problems. It may also increase the level of cholesterol due to its high-fat content. People with cardiovascular diseases should eat paneer in moderation.
Q. Can I incorporate paneer daily in my diet?
A. Paneer is an excellent source of vitamins, minerals, proteins, carbohydrates, and fats. You can incorporate paneer into your daily diet but take it in moderation. You may consume paneer by adding it to several tasty recipes.