HealthifyChef Challenge
Read on below and check out our winners and their mouth watering, healthy recipes.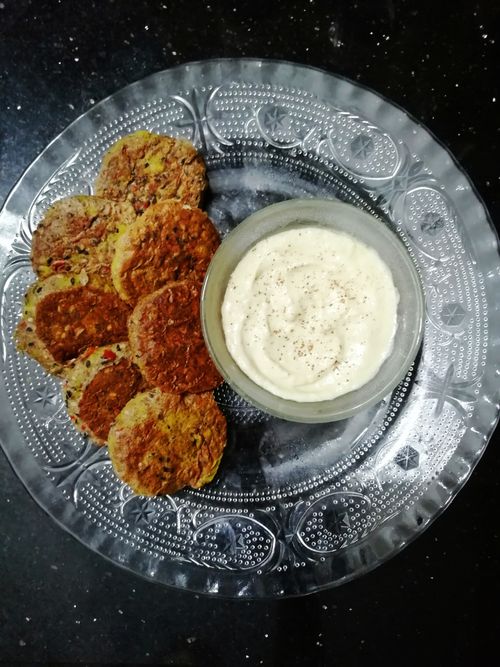 We at HealthifyMe are so happy to honor the people who inspire healthy cooking and healthy eating. We've had an overwhelming response and our team of nutritionists had a tough time deciding the winners. But we finally have our top 5 HealthifyChefs. Read on below and check out our winners and their mouth watering, healthy recipes.
Mary's Famous Chickpea Falafel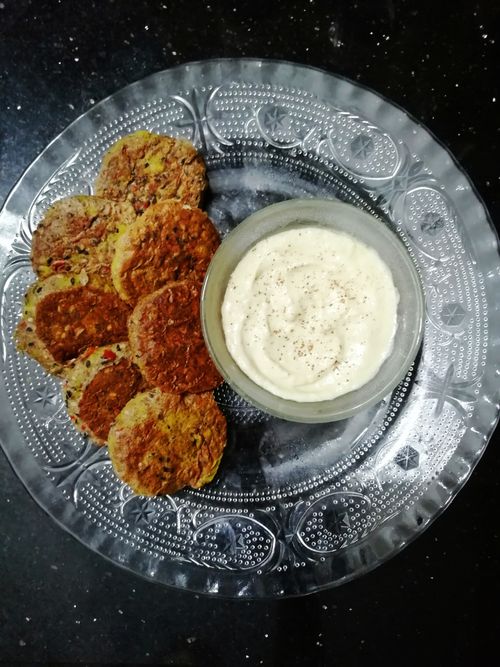 Ingredients:
1 cup chickpea
2 medium sweet potato
⅓ cup Fresh coriander
⅓ fresh parsley
1 medium red onion
½ tsp turmeric
1 tsp black pepper
½ ground cardamom
4 cloves garlic
½ tsp rock salt
1 tsp ground cumin
1 ½ ground coriander powder
1 tbsp chickpea flour
2 tbsp ground flaxseed
3 ground cloves
1 tsp chilli flakes
½ tbsp lemon juice
1 tbsp white sesame seeds
1 tbsp black jeera
5 tbsp water
Method:
Soak chickpeas for at least 6 hours or overnight and boil them until well cooked.
After the chickpeas have cooled, dry blitz them with 1/3 cup each of fresh coriander and fresh parsley in a grinder for about 30 seconds (small chunks consistency).
Boil/steam/bake (preferably steam) 2 medium sweet potatoes. Add ground cumin, ground cardamom, white sesame seeds, ground coriander, turmeric, ground pepper, garlic, red onion, and rock salt into the chickpea mix and blitz it again for about a minute (well combined but still chunky).
Add mashed boiled sweet potatoes into the mix with the juice of lemon. Blitz for a minute until well combined and the mixture holds together.
Transfer the contents to a bowl and add chickpea flour (besan) and mix well.
Refrigerate the mix for about an hour to make the mix firmer and more manageable and finally make them in the form of patties.
For the coating, mix ground flaxseeds with water, cloves, chilli flakes and let it sit for about 10 minutes. In a separate plate, add sesame seeds and black jeera.
Dip the falafel in the flaxseed mix, and dry heat in a pan for about 5 minutes on each side.
Enjoy with tahini or hummus or coconut peanut butter sauce.
-Recipe by Elaine Mary Rose
Chaitra's Nutritious Nuts Square
Ingredients:
1/2 cup Almonds
1/4 cup cashews
1/2cup roasted peanut
1/4 cup green pumpkin seeds
1/4cup white pumpkin seeds
1/4cup flaxseed
2 tsp poppy seed
1 tsp chia seeds
4 tbsp dry coconut
1/4cup sesame seeds
3/4 cup brown sugar
1/4 cup honey
A Pinch of salt
1tsp ghee
Method:
Roast almonds and cashews on low flame, then roast the seeds one by one. Lastly, roast grated dry coconut and keep them aside.
With a tsp of ghee and 2 tsp of water, melt the brown sugar. Once the brown sugar melts add honey, salt and saute for a minute. Later add all dry ingredients and saute for 4-5 minutes. Transfer the mixture into a pan and set.
Once dry, cut into define shapes and enjoy.
– Recipe by Chaitra Vijay
Nads Power Packed Pumpkin Brownies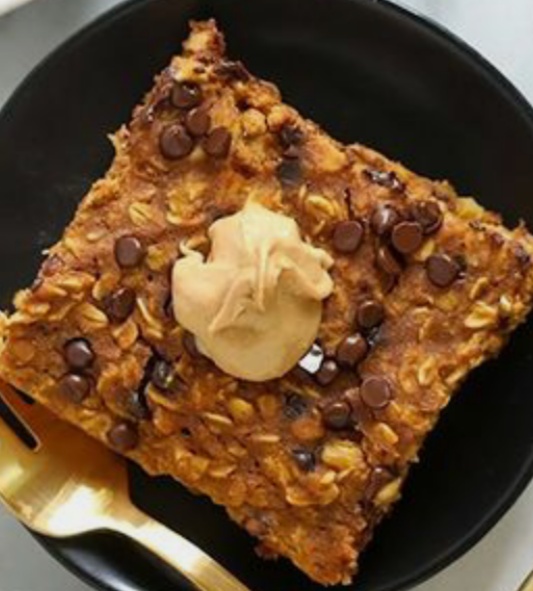 Ingredients:
Wet ingredients:
2 eggs
3/4 cup unsweetened pumpkin puree,
1 tsp vanilla extract
3 tbsp maple syrup
1/2 cup unsweetened almond milk
Dry ingredients:
1/2 cup rolled oats
1/2 cup white whole wheat flour
1 tsp pumpkin pie spice
1 tsp of baking powder
Pinch of salt
1/5 cup mini chocolate chip(optional)
Method:
Preheat the oven to 350°F and brush the baking dish with butter (keep aside)
Place dry ingredients to a large bowl and mix.Then add wet ingredients and mix well.
Transfer batter into baking dish and use a spatula to evenly spread it out.
Sprinkle more chocolate chips if desired.
Bake at 350°F for around 25 minutes.
Let it cool for at least 10 minutes before slicing and serve.
Your Yummy pumpkin oat choco is ready to have.
-Recipe by Nads
George's Chunky Chicken with Roasted Veggies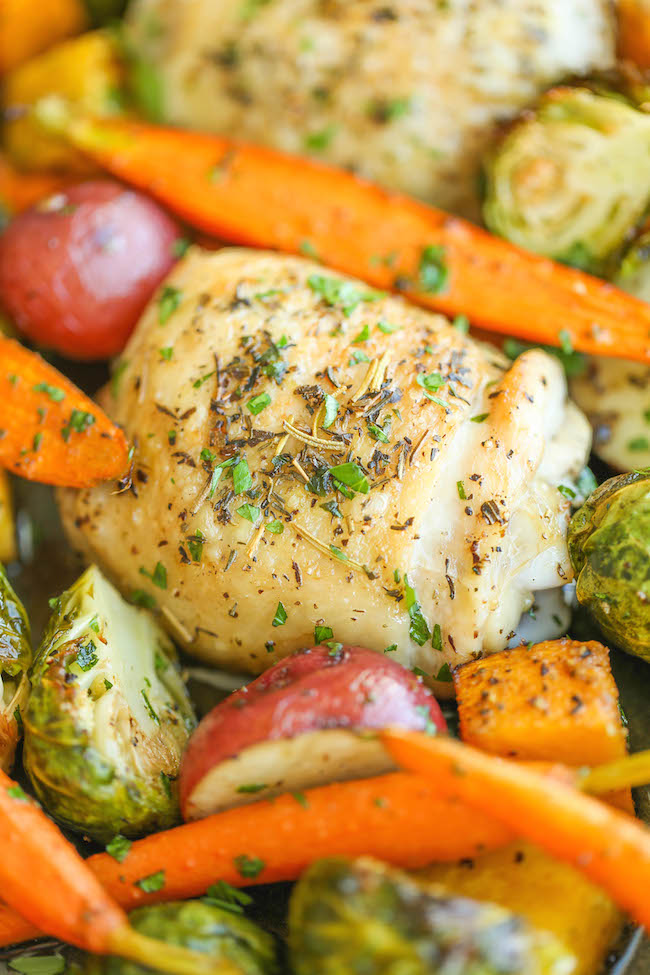 Ingredients:
2.5 kg chicken pieces
Extra-virgin olive oil
Kosher salt
1 tsp pepper
2tsp cumin powder
2tsp chilli/ paprika powder
500g small potatoes
250g carrots
100g peas / green gram sprout
100g onion
100g mushrooms chopped in half
100g asparagus cut into 2 cm
100g whole green beans
Lemon pieces to squeeze (as per requirement)
Method:
For marinade: Combine cumin ,chilli/ paprika powder, pepper and a dash of olive oil
Preheat oven to 450 degrees
Take 2 baking pans and place baking sheet in them
On one baking sheet add carrots, potatoes, peas / green gram sprouts and onions. To that add 2 tbsp of olive oil and add 1/3 of the rub mix (marinade) with salt to taste. Roast for 10 min.
On the other baking sheet, add 2 tsp of olive oil and 1/3 of the rub mix (marinade) on mushrooms, asparagus and beans on one side of the pan. On the other side, arrange chicken pieces. Add the remaining marinade on the chicken. Roast both pans 20 to 35 minutes or until chicken is cooked and all veggies are softened. To serve, garnish with spring onion diced and a with a squeeze of lemon.
-Recipe by George B Mangalath
Noel's Special Mackerel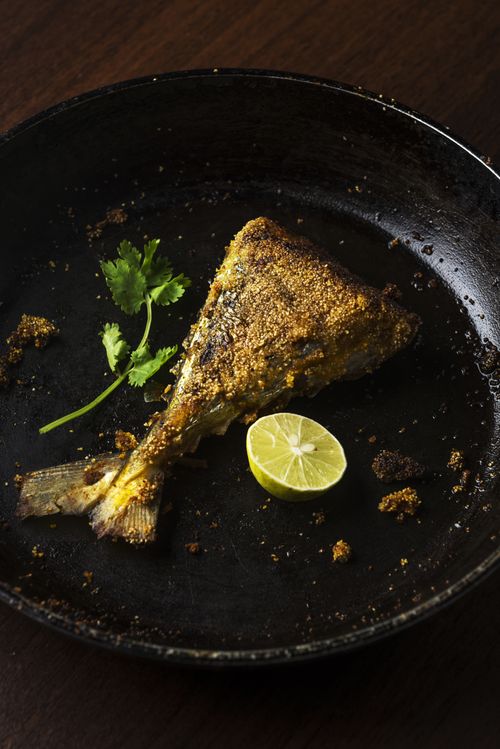 Ingredients:
1 Mackerel fillet
2 tsp Olive oil
2 tsp Fish sauce
1 tsp Vinegar
1tsp Honey
Red chilli (as per requirement)
Coriander (finely chopped)
1 tsp Lemon
2 Garlic cloves
Peanuts
Broccoli
1 tsp Peanut Butter
Spring onions
Salt (as per requirement)
Method:
Take a mortar and pestle and add chopped garlic, spring onions, red chillies, peanuts, fresh coriander, fish sauce, vinegar, honey, peanut butter, olive oil, and salt. Then mix it into a paste consistency and keep the paste aside.
Dry pat the mackerel fillet.
Take a non stick pan add olive oil and roast the fish both sides 3-5 mins with a squeeze of lemon.
Remove the cooked fish from the pan. Add broccoli in the same pan with some chopped garlic and saute it with few splashes of water until the broccoli is soft.
Serve the mackerel and put the sauce that you made earlier on the top with your sauteed broccoli on the side.
Pro tip: You can have this with quinoa, to enjoy the fish better.
– Recipe by Noel D'souza
Want to get featured just like our winners?
Keep posting about your daily healthy recipes and lifestyle, tag HealthifyMe on Social Media and get featured.
About Author