Understanding the Health Benefits of Beans and Legumes
Eating beans and legumes as part of a healthy diet and lifestyle might help improve cholesterol levels, lowering the risk of heart disease.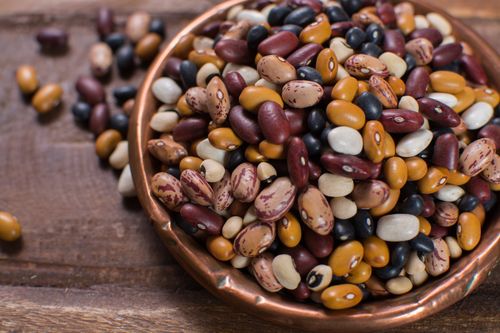 Introduction
Beans and legumes are reasonably priced food items that are beneficial for a healthy heart. Apart from being rich in protein, beans and legumes are also good sources of potassium, iron, and fiber. You can include any of the several moong beans, dals, split peas, kidney beans, chickpeas, black-eyed beans, and more. Eating beans and legumes as part of a healthy diet and lifestyle might help improve cholesterol levels, lowering the risk of heart disease. Furthermore, beans can help you feel full for an extended period, aiding your efforts to lose weight.
Table of Contents
Nutritional facts
9 Benefits of Beans/Legumes
2 Healthy recipes with beans/legumes
Summary
Frequently Asked Questions(FAQs)
Nutritional facts
Nutritional facts vary from one kind of bean to the next. But, as an example,1 cup(171 gms) of boiled pinto beans have:
Fat: 1 gram
Protein: 15 grams
Fiber:

15 grams

Carbs: 45 grams

Calcium: 8% of the Daily Value (DV)

Iron: 20% of the DV

Magnesium: 21% of the DV
Potassium: 21% of the DV
Phosphorous: 25% of the DV
Folate: 74% of the DV
On the other hand, legumes have a unique dietary profile and are a rich source of protein and fiber. For instance, 1 cup of lentils (cooked) provide:
Protein: 18 grams
Calories: 230
Carbs: 40 grams
Fiber: 16 grams
Potassium: 16% of the DV
Iron: 37% of the DV
Magnesium: 17% of the DV
Folate: 90% of the DV
9 Benefits of beans/legumes
Beans and legumes offer several health benefits. Here is a list of nine key ones:
#1 Rich in Folate
It is essential for a person's overall health, but it plays a vital role in a healthy pregnancy. Folate helps prevent neural tube defects in a fetus during pregnancy and is needed to develop healthy red blood cells. One cup (177 grams) of cooked kidney beans contains 131 mcg of folate.
#2 High in Protein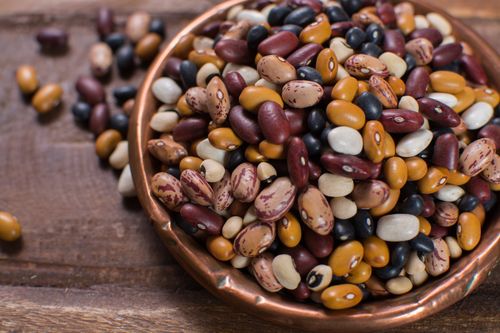 Beans are rich in amino acids, the building blocks of protein. However, all types of beans, only soybeans contain all nine amino acids needed from food to make a complete protein. To make beans and legumes an outstanding source of protein for vegans and vegetarians, combine them with cereals to get a complete protein. Beans make an outstanding protein source for vegans and vegetarians. They are also lower in calories and saturated fat than other animal protein sources like dairy and meats. Half a cup of cooked chickpeas or black beans provides 8 gms of protein. For instance, 40 grams of canned black beans provide 14.5 grams of protein, while 155 grams of shelled edamame beans provide 18.5 grams of protein.
#3 Antioxidants source
Antioxidants help eliminate the free radicals, which are harmful chemicals that the body generates during metabolism and other processes. Free radicals can damage the cells, which can result in various diseases. Beans are rich in polyphenols, which is an antioxidant. In this way, beans help protect the body from infection.
#4 Heart health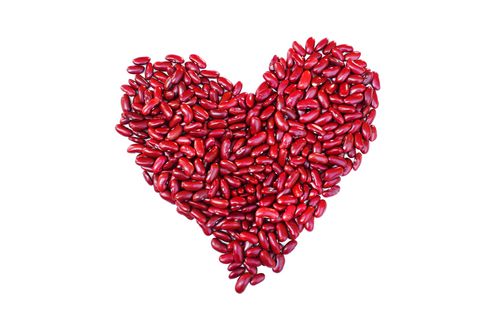 People who include beans regularly in their diet are at a lower risk of cardiovascular problems or heart attacks. According to a recent study, it has been established that a reason for the decrease in cardiovascular risk was that individuals had replaced high-fat meats with beans as a protein source. Other research recommends that fibre in beans might assist in reducing cholesterol. An enhanced level of bad cholesterol is often linked to an increased risk of heart attacks and heart disease.
#5 Diabetes and glucose metabolism
Beans and legumes can also stabilize blood glucose levels. They have a high fiber content, which reduces blood glucose. Experts say that consuming a high fiber diet can decrease the risk of type 2 diabetes as well as control sugar for those already having it.
#6 Decreased risk of cancer
Anti-inflammatory and antioxidant properties of beans and legumes can lower cancer risk. According to some reports, eating a few servings of beans every week can increase fiber intake and reduce the risk of developing cancer. Moreover, beans are Protease Inhibitors. They discharge substances known as proteases that annihilate the nearby cells, which helps in preventing growth. Additionally, it slows down the cancer cell division. The types of cancer controlled by beans/legumes are prostate cancer, colorectal cancer, breast cancer, renal cancer, and gastric cancer.
#7 Prevent fatty liver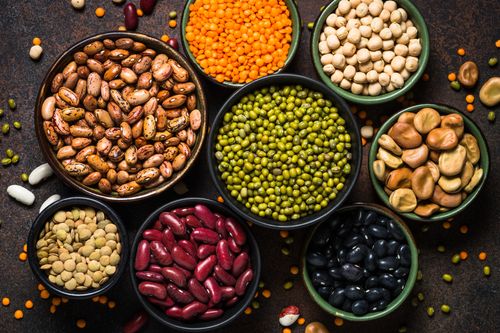 Fatty liver occurs when fats build up in the liver. Due to it can build up alongside high cholesterol, obesity, high blood pressure, and other metabolic syndrome aspects. The treatment of fatty liver disease hinges on weight loss and control of blood sugar, fat such as low-density lipoprotein (LDL) and triglycerides, or bad cholesterol. Alternating higher fat animal proteins with beans is an excellent step towards better liver health.
#8 Enhance gut health
Studies have shown various beans, particularly black beans, improve gut health by enhancing intestinal barrier function and enhancing the number of beneficial bacteria. This might help in reducing the occurrence of gut-associated illnesses. Healthy gut bacteria also improve immune system function and might assist in weight loss.
#9 Controlling appetite
When an individual eats beans, the high fiber content and the presence of healthy carbohydrates can induce a feeling of satisfaction and fullness. As a long-term dietary tactic, this can help stop overeating and might lead to weight loss.
2 Healthy recipes with beans/legumes
#1 Barley lentil and vegetable soup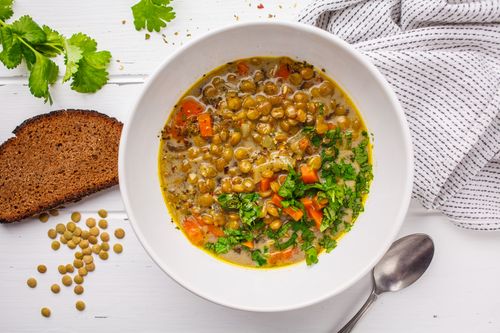 Barley is a great source of protein, iron and fibre and tastes good too, if cooked with flavourful ingredients as in this broth. The addition of lentils/masoor gives a complete protein for vegetarians.
Ingredients:
1 tsp oil
1 tbsp finely chopped garlic
1/3 cup finely chopped spring onions, green chopped separately
2 tbsp pearl barley, soaked for 2 hours and drained
2 tbsp whole lentils/masoor, soaked for 2 hours and drained
1/4 cup finely chopped carrots
salt to taste
1/4 cup finely chopped colored peppers – red, yellow, green
1/4 cup finely chopped tomatoes
2 tbsp chopped coriander
1/2 tsp freshly ground black pepper powder
1 1/2 tsp lemon juice.
Method:
Heat the oil in a pressure cooker, add the garlic and the spring onion whites and sauté on a medium flame till the onions turn translucent.
Add the barley, masoor, and carrots, mix well and sauté on a medium flame for another minute.
Add 4½ cups of hot water and salt, mix well, and pressure cook on a high flame for 3 to 4 whistles.
Add the spring onion greens, tomatoes, peppers, coriander, and pepper, mix well and simmer for a minute, stirring once in between.
Just before serving, add the lemon juice and mix well. Serve hot.
#2 Kidney bean patties with cucumber yogurt sauce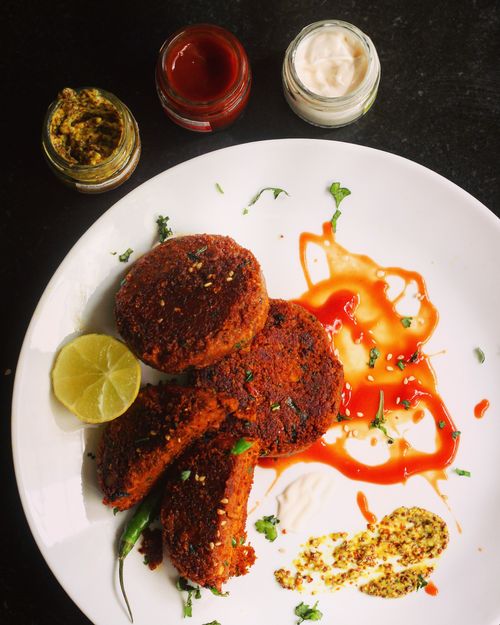 Ingredients
Rajma/kidney beans 1 cup soaked overnight
Onion 1 finely chopped
Carrot 1 grated
Green chilly 2 chopped
Jeera powder 1 tsp.
Red chilly powder 1 tsp.
Garam masala powder 1/2 tsp.
Turmeric powder 1 tsp.
Ginger garlic paste 1 tsp.
Salt to taste (1tsp.)
Oats 2 tbsp. for binding the patty
Coriander leaves 1 tbsp
oil 1 tsp
Lemon juice 1 tsp
Method
Soak the rajma overnight, or at least 8 hours. And then pressure cook them till they are completely cooked.
Remove the excess water and mash them well. Mix with the rest of other ingredients except oil. Keep aside for 2 mins. Roll them into a round shape. Heat a non stick tawa and brush with oil, fry the patties till brown on both sides. Serve with cucumber yogurt sauce.
Cucumber yogurt sauce
3/4 cup plain greek yogurt
1/2 cup grated cucumber
2 tablespoons lemon juice
1 1/2 teaspoons dry dill
1 garlic clove, grated
salt to taste
Mix all ingredients and serve chilled.
Summary
Legumes and beans are excellent sources of dietary fiber, protein, B vitamins, and several other essential nutrients. There is ample evidence that they can help reduce blood sugar, enhance cholesterol levels, and maintain a healthy gut. Eating more legumes and beans as a source of protein rather than meat is also environmentally friendly. Add them to stews, soups, and salads, or just eat them on their own for a wholesome vegetarian meal
Frequently Asked Questions(FAQs)
Q. What is the differentiation between legumes and beans?
A. Let's put it this way — all beans are legumes, but not all legumes are beans. Legumes are seed pods of the Fabaceae plant family. They include beans, pulses, and peas.
Q. Which beans and legumes are low in net carbs?
A. Tofu, moong beans, soybeans, broad beans, lentils, great northern beans, black-eyed peas, limas, black beans, and navy beans are low in net carbs.
Q. Is it better to eat green beans cooked or raw?
A. Uncooked green beans may result in diarrhea, nausea, vomiting, and bloating due to their lectin content. It is best to eat cooked green beans. Cooking neutralizes their lectins and also improves their digestibility, taste, and antioxidant content.
Q. How are peanuts legumes?
A. Peanut is a legume. Like lentils, soybeans, and other legumes, peanuts are edible seeds that grow in pods.
Q. Why are beans and legumes eaten together?
A. Legumes and beans are complete sources of protein on their own. Moreover, they taste delicious when they are cooked together and increase the nutrition level of the dish.