How to Prepare a Nutritious Onam Sadya
The Onam Sadhya is a complete meal rich in nutrients and dietary fibers, but swapping certain ingredients can make it even healthier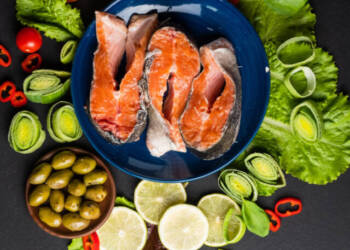 Legend has it that Onam marks the day when revered King Mahabali makes an annual visit to his home state Kerala. And in India, there's no better way to celebrate the return of a much-loved mythical figure than by preparing a feast fit for the king.
The Onam Sadya served on this day is a smorgasbord of vegetarian flavours covering the six rasas, or tastes, as defined by Ayurveda – spice, salt, bitterness, sourness, pungency and sweet. A typical meal consists of up to 20 dishes laid out on a banana leaf, including a variety of appetisers, curry dishes made with coconut and curd, stir-fried vegetables, pickles, sambar-rasam, Kerala red rice and Payasam. The meal is served in a particular order so as to complement and balance the taste and nutrient elements. Snacks such as Upperi, pickles, chutneys and dry vegetables are first laid out on the leaf along with rice. Parippu, a lentil gravy with ghee, is served before sambar and kalan (a banana-curd gravy dish), and is followed by rasam. A variety of Payasams come next, and the meal ends with a cup of curd / glass of buttermilk to help digestion.
Since Onam falls after Karkidakam, the month of monsoon when people are advised to consume detoxifying foods to let their digestive organs take a break, Onam is the true definition of a feast to the less-active taste buds, and the rejuvenated organs.
If you're watching your weight, but can't resist the lip-smacking fare, try these low-calorie, nutritious menu items.
Olan with White Pumpkin (Petha)
A delicately spiced mild stew, Olan can be prepared with white pumpkin (also known as ash gourd/petha) or yellow pumpkin (kaddu). Both these variants being rich in calcium, phosphorus, riboflavin, iron, thiamine, niacin, Vitamin C, proteins and fibre and low on fat and carbs, makes it an ideal choice for people suffering from diabetes and/or obesity.
To give this dish a healthier spin, substitute coconut milk with almond milk/soy milk/curd.
Ingredients
250 gms white pumpkin, peeled, cut into chunks

½ cup black-eyed beans (

lobhiya/chawli

), soaked in water for 2-3 hours.

1 green chilli, slit lengthwise

25ml almond milk

Salt to taste

4-5 curry leaves (

kadipatta

)

2 tsp oil
Method
Pressure-cook the beans until soft and set aside.

Salt the pumpkin chunks and steam until soft and cooked.

Heat a heavy bottomed saucepan, and add the pumpkin, almond milk, curry leaves and green chillies. Stir well and bring the mixture to a quick boil.

Cook till the gravy is the consistency you require (if you want it thinner, add a little water). Add the oil and simmer for a few more minutes.

Take it off the heat, cover the pan and let it rest for about 10 minutes. Serve with

appams

(rice pancake) or steamed brown rice.
Nutritional value per serving: Energy 43 kcals; Protein 3 g; Fat 1 g
Brown Rice Payasam
This traditional sweet dish can be prepared with brown rice instead of white, as the former is rich in fiber and a good source of manganese and selenium. Using a sugar-free sweetener brings the calorie count down.
Ingredients
50 gm brown rice, washed and soaked for half-an-hour

½ litre milk

5 gms cardamom (

elaichi

) powder

100 gm Sugar-Free Natura

1 tbsp ghee

2-3 chopped almonds
Method
Cook the rice in milk until soft.

Add cardamom powder and Sugar-Free Natura and stir until the sugar is dissolved.

Heat ghee in a pan, add the almonds and roast until they are slightly golden. Pour over the rice mixture and serve warm.
Nutritional value per serving: Energy 50.7 kcals; Protein 0.4 g; Fat 2 g
Garden Cress Seeds (halim) Upperi
Upperi, or banana chips coated with jaggery, is a popular snack prepared during Onam. Substituting raw bananas with Garden Cress is a more nutritious option, as the seeds are an excellent source of folic acid, Vitamin C, fiber, iron, calcium, protein, Vitamin A, folate and Vitamin E.
Ingredients
50 gms Garden Cress Seeds, roasted and crushed coarsely

100 gms jaggery (

gud

)

50 gms dry coconut, roasted

2 tbsp ghee

2 tbsp dry ginger powder (

soonth

)

2 tbsp Shatavari and Ashwagandha powder

2 tbsp cardamom (

elaichi

) and nutmeg (

jaiphal

) powder

2 tbsp poppy seeds (

khuskhus

) powder

2 tsp

edible gum

(

dinka or gaund

)

2 tbsp almonds, pista, cashews, crushed
Method
Heat ghee in a pan, then add the edible gum and fry till crisp.

Add the jaggery and allow it to melt on a low flame. When it comes to a boil, add all the remaining ingredients, except the dry fruits, to the mixture.

Roll out this mixture (in a manner similar to rolling chapattis), sprinkle the crushed dry fruits and roll over it again to ensure that the dry fruits stick firmly on it. Cut it into square/rectangle) pieces similar to

chikki

and allow it to cool.
Nutritional value per serving Energy 246 kcals; Protein 4 g; Fat 15.6 g
Millet Payasam
Foxtail Millets (kangni or thinai) are a gluten free, high protein and low fat and sugar alternative to white rice. This dish can be prepared with almond milk as well.
Ingredients
½ cup Foxtail Millet

1 cup jaggery (

gud

)

2 cups milk, boiled and cooled

10-12 cashews

15-20 raisins

¼ tsp cardamom (

elaichi

) powder

1 tsp ghee
Method
Heat the ghee and roast the cashews and raisins separately. Set aside, and in the same pan, roast the millets until they are slightly hot to touch. If required, add another ½ tsp of ghee.

Pressure-cook the millets with 1 ½ cup of water for three whistles or cook in a pan with a lid (see

How to Cook Millets

).

Dissolve the jaggery in ¼ cup of water and strain. Boil the mixture until it thickens slightly, and add the cooked millets. Cook on a medium flame until blended.

Add cashews, raisins and cardamom powder, and stir.

Add milk, and let it simmer on a low flame for a few seconds before turning the gas off. Do not boil it too much after adding milk.
Note: When you make payasam with jaggery and milk, either the jaggery syrup or milk should be at room temperature when mixed. If both are hot, the milk may curdle.
Nutritional value per serving: Energy 124 kcals
Are you looking for healthy recipe options? Our nutritionists can help you plan your diet.
[symple_button url="https://healthifyme.onelink.me/2285251819?pid=Blog_Post&c=Sign_Up&af_dp=hmein%3A%2F%2Factivity%2FPlansv2Activity&af_web_dp=http%3A%2F%2Fhealthifyme.com%2Fhome&af_force_dp=true" color="red" size="medium" border_radius="3px" target="self" rel="" icon_left="" icon_right=""]Get fit with HealthifyMe. Sign up here[/symple_button]
About Author