ATTD 2020 – Transforming Diabetes Care Through Technology
 By Dr. Claudia Graeve, Vice President (Health Advances GmbH)The 13th annual Advanced Technologies and Treatments for Diabetes [ATTD] conference in Madrid, Spain, attracted over 3,800 attendees fro…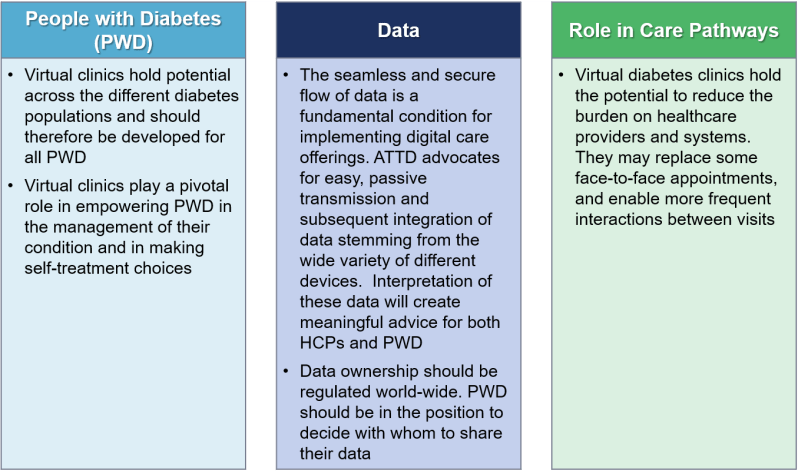 This slideshow requires JavaScript.
By Dr. Claudia Graeve, Vice President (Health Advances GmbH)
The 13th annual Advanced Technologies and Treatments for Diabetes [ATTD] conference in Madrid, Spain, attracted over 3,800 attendees from more than 81 countries, illustrating keen interest from the diabetes care community to continuously develop technologies serving to improve the life of people with diabetes [PWD].
Back from the conference and energized by the high-calibre sessions and vivid discussions in the exhibition hall, we chart our path through the multifaceted themes and share a snapshot of the three and a half days dedicated to technological progress in diabetes care.
TIR Metrics Taking Greater Hold
Reflecting the ATTD 2019 consensus recommendations1 for CGM data utilization, as well as the increasing accuracy of CGM, the scientific sessions consistently highlighted the insights that can be obtained by CGM-enabled direct observation of intra- and inter-day glycaemic excursions. Bolstering the traditional gold standard of HbA1c measurement, Time-in-Ranges – time within target glucose range (TIR), time below target glucose range (TBR), and time above target glucose range (TAR) – demonstrate meaningful patient-relevant parameters in clinical practice.
Dr. Roy Beck from the Jaeb Center for Health Research in Tampa, US, provided outcomes-based evidence to support the use of TIR. Using data from the Diabetes Control and Complications Trial, he showed that TIR calculated from quarterly 7-point blood glucose measurements is strongly associated with the development or progression of retinopathy and microalbuminuria. In particular, with each 10% drop in TIR, there was an increase in risk of retinopathy by 64% and of microalbuminuria by 40%. He concluded that the strong association between TIR and the risk of microvascular complications makes the former an acceptable endpoint for both, clinical investigations and a valuable metric in the clinical care of PWD.
We believe this points to two key implications – firstly, we anticipate an increase of clinical understanding in the management of type 1 diabetes (T1D) with the wealth of available data, translating into improvements in patient care. Secondly, we foresee the potential for CGM to become a broader front-line tool in diabetes practice reaching beyond the traditional T1D market, translating into enhanced growth opportunities in the CGM market.
Continued Progress in AID
The growth of interest in the development of Automated Insulin Delivery [AID] (integrated algorithm plus CGM plus pump system, i.e. closed loop, or the "artificial pancreas") was highlighted by Prof. Boris Kovatchev from the University of Virginia, citing the 2019 record number of over 140 publications on the topic of artificial pancreas in PubMed. He went on to present data from three large-scale artificial pancreas studies, all of which used sensor-augmented pumps as their control condition and the University of Virginia-developed algorithm InControl/Control IQ. Cross-study meta-analyses showed the algorithm embedded in the pump increased TIR by an additional 1.5h per day over the same mobile algorithm.
JDRF described the significant progress achieved since 2017 with its open protocol AID systems initiative, while highlighting outstanding issues in technical interoperability between AID elements from different companies, and adequate triage for customer support.
Loop, the algorithm/app developed by Tidepool with JDRF's financial support, presented data from an ongoing observational study according to which users of DIY closed loop systems using Loop benefited from lower A1C (from 6.8% to 6.5% after three months) and greater TIR (increase from 68% to 73% after one month).
We view the ongoing development of closed loop platforms as a revolutionary change in diabetes management. As first-generation systems are transitioning to routine use by people with T1D, we anticipate new competitive dynamics among device manufacturers. Ongoing and expected data readouts from Medtronic, Tandem, and Insulet, as well as newer players such as Beta Bionics, Bigfoot Medical and CamDiab will potentially reveal differing competitive strengths across population segments.
The Potential for Virtual Care
Prof. Moshe Phillip from the Schneider Children's Medical Center, Petah Tikva, Israel, shared a preview of the upcoming ATTD consensus recommendations on the role of digital/virtual diabetes clinics. Pointing to a broad and visionary recommendation for integrating the offers of virtual support into patient care, the expected consensus recommendations centre on three key pillars:

We applaud the visionary consensus recommendations. Virtual diabetes clinics with remote care and coaching for PWD hold tremendous potential to offer individualised, timely care at a scale that the global diabetes epidemic requires. In particular, the between-physician visits fill a crucial gap in the current management of care.
However, the challenges in making this vision a reality are multi-fold – fragmented healthcare provision, skewed payer incentives, patchy EHR integration, and varying levels of digital offerings with different degrees of technical and market maturity, which will all need to be addressed.
Conclusion
ATTD 2020 is a powerful testimony to the impact of technology on the management of diabetes. Numerous presentations portrayed improvements in glycaemic control with CGM utilization and AID systems. While we are at the cusp of significantly improving our understanding and care of diabetes, we still need to overcome several stumbling blocks (e.g., regulatory and payer support, technical interoperability, data sharing and integration).
The next frontier lies in harnessing the power of the diabetes data ecosystem to develop meaningful tools to support PWD and foster better outcomes. Numerous opportunities exist for newcomers as well as established players alike to combine knowledge and insights from physicians, engineers, and data scientists to serve the needs of patients. These are times for innovative approaches and bold new business and care models.
About Author