Healthy Indian lentil recipes
Here are the healthy recipes using lentil #1 Masoor dal tadka #2 Assorted Greens Salad with Lentils #3 Cauliflower-Lentil curry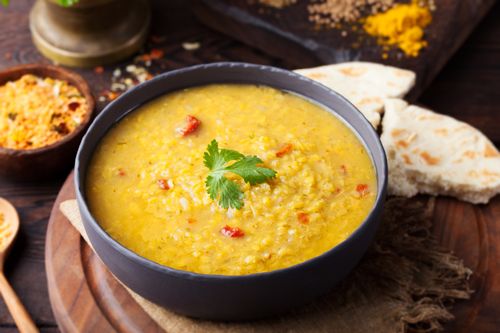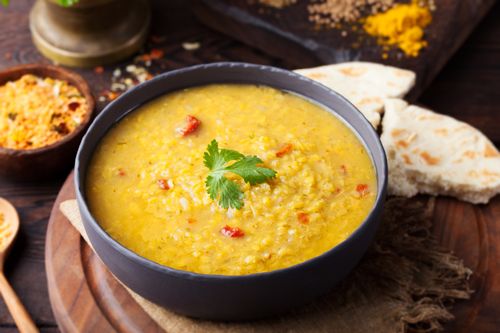 #1 Masoor dal tadka
Masoor ki dal (red lentils) contains loads of protein.
Ingredients
1

cup

Masoor ki dal

1

cup

Finely chopped tomatoes

1

cup

Finely chopped medium-sized onion

1

tsp

Ginger garlic paste

A pinch of turmeric

1/4

tsp

Dhania powder

1/2

tsp

Red chili powder

1/4

tsp

Garam masala

A pinch of hing

1/4

tsp

Cumin seeds

Deseeded red chili

1

tbsp

Ghee

Freshly chopped coriander leaves for garnishing

Salt according to your taste
Instructions
Wash the lentils thoroughly and soak for 15 minutes. Add the lentils, 1/2 tsp salt, pinch of turmeric, 500ml water in a pressure cooker, and wait for 3-4 whistles.

In a wok, heat oil. Then, add heeng and cumin. Saute chopped onions till golden-brown. Then, add ginger, garlic paste, remaining spices, chopped tomatoes, and cook till the oil leaves the mixture.

Transfer the boiled dal into the wok and mix well. Pour the dal into a serving container.

Temper with ghee, dry red chillies, and jeera. Pour it over the dal.

Use coriander leaves for garnishing.
Notes
Total Fat – 12 g
Saturated Fat – 7 g
Polyunsaturated Fat – 1 g
Monounsaturated Fat- 4 g
Cholesterol- 28 mg
Sodium-492 mg
Potassium-846 mg
Total Carbohydrate-44 g
Dietary Fiber-20 g
Sugar-4 g
Protein-17 g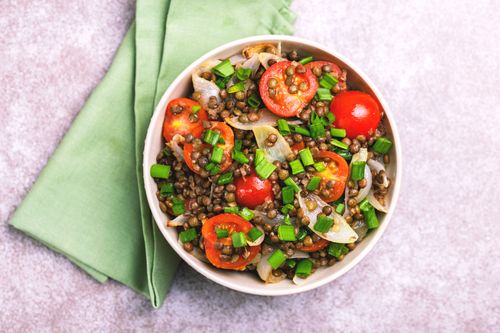 #2 Assorted Greens Salad with Lentils
A refreshing salad for a quick, yummy, yet healthy snack.
Ingredients
1

cup

mixed salad (tomato, cucumber, lettuce, and other greens)

1/2

cup

lentils cooked

1

deseeded, sliced apple

1

tbsp

feta cheese crushed

2

tbsp

olive oil

1

tbsp

red wine vinegar
Instructions
Add greens, about half the apple slices, and the feta to lentils.

Drizzle the vinegar and olive oil over the salad.

Serve the salad with the remaining apple slices as the side.
Notes
Calories-99
Total Fat-13.2 g
Saturated Fat-3.5 g
Cholesterol-12.5 mg
Sodium-115.4 mg
Total Carbohydrate-27.7 g
Dietary Fiber-14 g
Sugar-21.8 g
Protein-12.7 g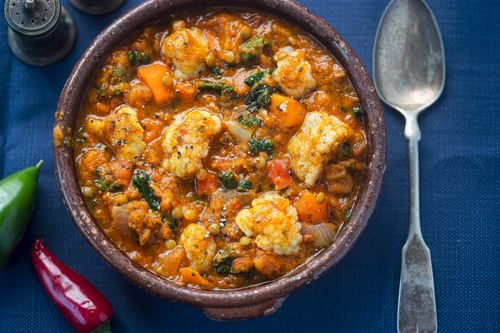 #3 Cauliflower-Lentil curry
A heart-healthy, gluten-free curry.
Ingredients
1/2

cup

rinsed lentils

1

chopped onion (small)

2

tsp

curry powder

1/4

tsp

turmeric

Salt (As per your taste)

4

deseeded and chopped ripe tomatoes

4

cups

cauliflower florets

1

tsp

sunflower oil

1

tsp

cumin

3-4

garlic cloves, crushed

2

tsp

ginger, fresh and crushed

Freshly chopped coriander leaves

1

tsp

brown sugar

2

tbsp

lemon juice

1/4

tsp

pepper

1

jalapeno pepper, halved
Instructions
Add lentils, curry powder, salt, turmeric, sauteed onions to a pan, and cook over low heat for about 45 minutes.

After the lentils are mushy and the consistency of the sauce is thick, add tomatoes, cauliflower florets, and jalapeno peppers. Cook till the cauliflower becomes soft

Take another frying pan and add cumin, ginger, and garlic and stir till the garlic turns golden.

Stir in the pepper and add oil-spice mix to the pan with cauliflower mixture.

Mix lemon juice, brown sugar, and coriander. Serve with plain, steamed rice.
Notes
Total Fat-4.8 g
Saturated Fat-0.5 g
Total Carbohydrate-27.5 g
Dietary Fiber-9.6 g
Sugar-7.2 g
Protein-9.7 g