Recipes using Tapioca
Here are the recipes using tapioca #1 Tapioca Pudding #2 Bubble tea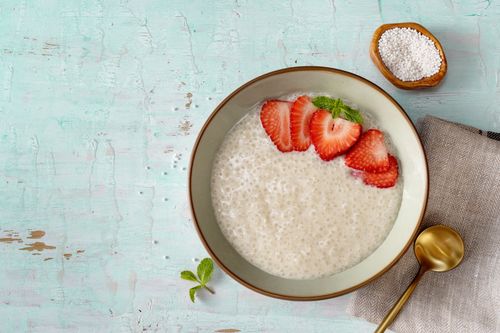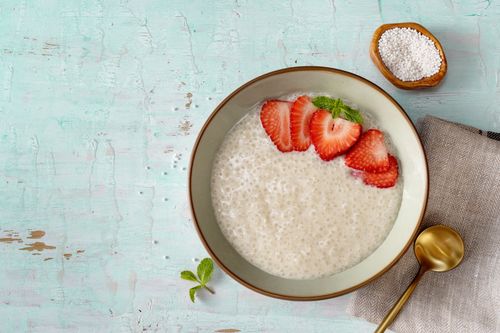 #1 Tapioca Pudding
This pudding is a mouth-watering dessert and comfort food for many.
Ingredients
1/2

cup

Tapioca pearl (small size)

3

cups

Cow milk or any plant milk

1/4

tsp

Sal

2

Eggs

1/3

cup

Maple syrup or honey

1

tsp

Vanilla extract
Instructions
Soak the tapioca pearls into 2 cups of water for 2-3 hours.

Combine the milk, salt and tapioca pearls in a pan. Cook them on low heat.

The pearls are fully cooked when they have doubled in size and have a translucent texture.

Stir occasionally to avoid the pearls from sticking to the bottom.

Take a separate bowl and beat the eggs in them.

Slowly add some of the hot tapioca mixtures to the egg bowl. This is to ensure that the mixture does not curdle due to the varying temperatures.

Now add the egg mixture to the remaining tapioca in the pan.

Stir for a couple of minutes on medium heat. Do not let the tapioca pearls boil.

Once you achieve the pudding consistency, rest the mixture for 20 minutes.

Add in the honey and vanilla extract.

Serve hot or chilled as per preference.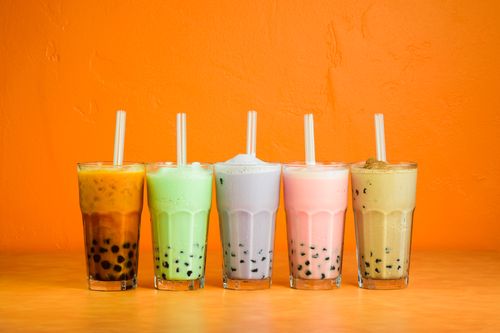 #2 Bubble tea
Commercially, bubble tea has a massive fan base. This recipe shows you how to make them at home for a serving of 4.
Ingredients
8

Black tea bags

3/4

cup

Tapioca pearls

41/2

cup

Water

1/2

cup

Sugar

As per your preference

Milk
Instructions
First, create a simple syrup. For this, add ½ cup of water and sugar to the pan.

Heat the pan until all the sugar has dissolved.

Remove the pan from the stove and let it rest.

To make the tea, steep the tea bags in 4 cups of water.

Check the tapioca packet for soaking instructions. Follow it accordingly.

Cook the tapioca pearl in about 4 cups of boiling water.

Transfer the cooked pearls to a bowl and rinse them with regular water.

Mix the pearls with a few tablespoons of simple syrup.

Divide the pearls into 4 glasses. Add in ice cubes.

Strain 1 cup of tea into each glass

Add about 2 tablespoons of milk and simple syrup to it.

Change the ratio of milk and simple syrup according to your preference.

Serve with large boba straws or spoons.