Healthy Indian Salad Recipes for Weight Loss
Here are the Healthy Indian Salad Recipes for Weight Loss #1 Paneer, Peas, and Peanut Salad #2 Spinach and Cabbage Salad #3 Apple, Broccoli, and Red Cabbage Salad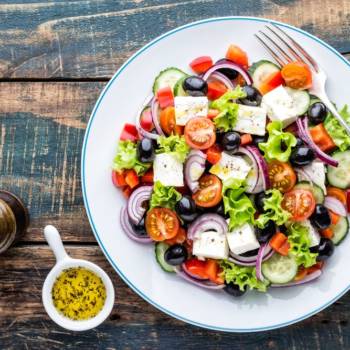 Certain ingredients that we see in salad recipes are unavailable or difficult to acquire in India. On that note, here are some healthy Indian salad recipes to aid you in your weight loss journey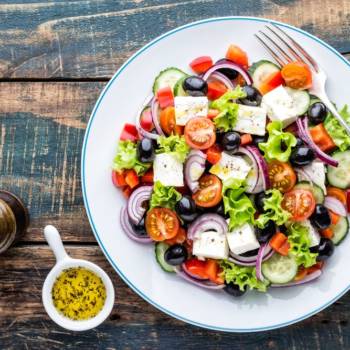 1. Paneer, Peas, and Peanut Salad
This healthy protein salad is perfect for Indian vegetarians who want to try something new.
Ingredients
1/4

cup

Paneer cubes

A handful

Boiled green peas

2

tbsp

Coarsely-ground roasted peanuts

1

Carrot

1

Apple

1

Cucumber

0.5

tbsp

Organic honey

To taste

Salt and pepper
Instructions
Peel and chop the apple and cucumber. Grate the carrot as well.

Saute the cubes of paneer in oil for a few minutes.

Combine all the ingredients in a mixing bowl, and toss gently
Notes
Benefits:
Since this salad is composed of ingredients that contain protein, highly digestible fats, and are low in calories, it helps with weight reduction.
The magnesium and phosphorus present in paneer promote good digestive health.
Peas contain antioxidants that help boost your immune system.
Peanuts help reduce the risk of heart disease by lowering your cholesterol levels.
Paneer is rich in vitamin D and calcium, thereby strengthening your bones. Also, it improves the functioning of the nervous system.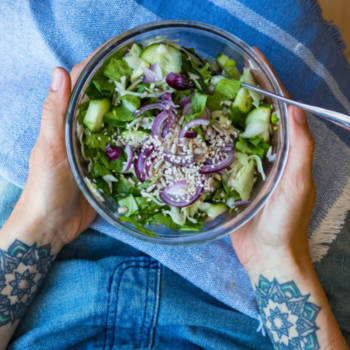 2. Spinach and Cabbage Salad
This healthy vegetable salad is the perfect option for Indians on vegan or paleo diets.
Ingredients
1/2

bunch

Spinach

250

g

Cabbage

1/2

cup

Boiled corn

2

Moolis (only white part)

1

Beetroot

1/2

bunch

Coriander

1/2

cup

Mint leaves

2

Carrots

2

tbsp

Lime juice

1

tbsp

Chat masala

To taste

Salt
Instructions
Finely chop the spinach, cabbage, coriander and mint leaves.

Grate the carrots, beetroot, and moolis.

Add the boiled corn to the mixture.

Mix the lime juice, chat masala, and salt separately.

Pour it into the main mix, and combine.
Notes
Benefits:
Since this salad is high in dietary fibre and low in calories, it promotes weight loss.
This salad is rich in vitamin C, which helps reduce the risk of specific cancer and heart disease types.
It is also rich in lutein and zeaxanthin, which helps protect your eyes from damage, and promotes good eye health.
The nitrates and potassium present in the salad also help moderate your blood pressure.
It also contains powerful antioxidants that have anti-inflammatory properties.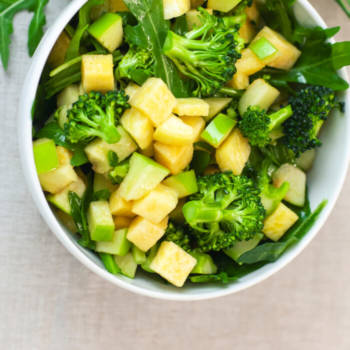 Apple, Broccoli, and Red Cabbage Salad
This mixed salad is best suited to those who want more flavour and variety in their meal.
Ingredients
1

cup

Red cabbage

1

cup

Apple

1

cup

Broccoli

1

cup

Pineapple

1

cup

Carrot

1/2

cup

Bell pepper (capsicum)

1/2

cup

Green onion

1/4

cup

Red onion

2

cloves

Garlic:

2

inch piece

Ginger

1/2

cup

Mung bean sprouts

1/2

cup

Peas

1/2

cup

Cashew nuts

1/2

cup

Raisins

1/4

cup

Lemon juice

2

tsp

Honey

1/2

cup

Orange juice

4

tsp

Pepper powder

1

tsp

Soy sauce
Instructions
Chop the cabbage, bell peppers, broccoli, green onions, red onions, apple, and pineapple. Finely chop the carrots as well.

Grate the ginger. Then, crush the garlic

In a large bowl, combine all these ingredients. Add the peas and mung bean sprouts as well.

Add the raisins and cashew nuts, and toss gently.

Mix the lemon juice, orange juice, honey, pepper powder, and soy sauce in a smaller bowl.

Pour this dressing into the larger bowl's mixture. Toss gently to combine the ingredients well.
Notes
Benefits:
Due to the salad's high fibre and water content, it aids weight loss.
This salad is rich in vitamin K, an essential vitamin that improves bone health.
The enzyme bromelain present in the salad helps with the functioning of white blood cells. It also stimulates the death of specific cancerous cells.
The vitamin C present in the salad boosts the immune system.
Since the salad is rich in fibre and antioxidants, it improves digestive health and promotes regular bowel movements.