Healthy Salad Recipes for Weight Loss
Here are the healthy salad recipes for weight loss 1. Grapefruit, Apple, and Pomegranate Salad 2. Egg Salad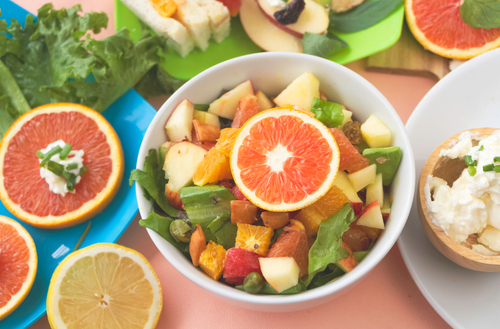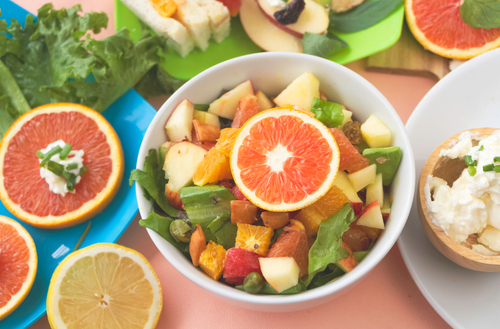 1. Grapefruit, Apple, and Pomegranate Salad
This healthy fruit salad can be the perfect way to start your day.
Ingredients
2

cups

Red grapefruit slices

1

cup

Chopped apple slices

1/2

cup

Pomegranate arils

1/2

tbsp

Seeded and minced serrano chile peppers

1

tbsp

Fresh lime juice

1

tbsp

Organic honey

1

pinch

Flaked sea salt
Instructions
Mix the grapefruit and apple slices in a bowl. Then, sprinkle in the pomegranate and minced chile peppers.

In a separate bowl, combine the lime juice and honey.

Pour the dressing over the salad and sprinkle the salt
Notes
Benefits:
Due to the salad's high-fibre content, it aids weight loss.
The citric acid present in the salad helps reduce the formation of calcium oxalate kidney stones.
The vitamin A present in the grapefruit helps improve vision and eye health.
Apples also promote good gut health since they contain pectin, which acts as a prebiotic.
Pomegranates have anti-inflammatory properties and thus, can help treat arthritis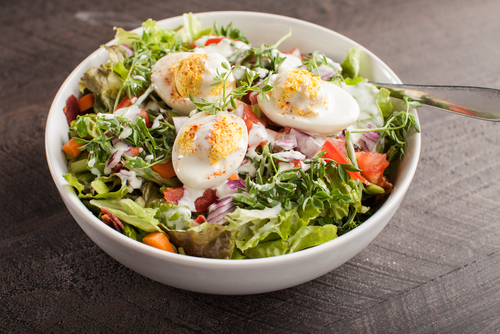 2. Egg Salad
This healthy protein salad is a great salad option for non-vegetarians who want to start incorporating salads into their daily diet.
Ingredients
5

Eggs

1/2

cup

Non-fat Greek yoghurt

1 1/2

tsp

Aleppo pepper

1

tsp

Sumac

2

tbsp

Extra virgin olive oil

2

Tomatoes

1

Avocados

1

Cucumbers

1

Onions

1

tbsp

Lemon juice
Instructions
Make hard-boiled eggs in your preferred way, and let them cool.

Slice the eggs and put them in a medium-sized bowl.

Season with salt, pepper, ½ teaspoon of sumac, and one teaspoon of Aleppo pepper. Drizzle 1 tablespoon of the extra virgin olive oil over it. Toss gently to combine these ingredients.

In a separate bowl, mix the sliced tomatoes, avocados and cucumbers. Mix in the chopped onions as well.

Season with salt, pepper, ½ teaspoon of sumac, and ½ teaspoon of Aleppo pepper. Add the lemon juice and remaining olive oil to it. Gently toss to combine.

Combine this mixture with the egg mixture and gently toss it together.
Notes
Benefits:
Due to the high-fibre and high-protein content, it promotes satiety and helps you lose weight.
Eggs lead to increased HDL ("good") cholesterol, which helps reduce many other diseases.
Avocados are rich in fibre, leading to the growth of healthy bacteria, thereby promoting good gut health.
Cucumbers contain beneficial antioxidants that help prevent the build-up of free radicals and may help reduce the risk of chronic diseases.
Eggs are rich in two specific antioxidants, lutein and zeaxanthin, which help promote good eye health.